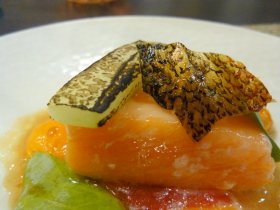 If chef Adam Stokes' favourite flavour of crisps isn't salt and vinegar I'm quite prepared to eat my hat. Oh, I most definitely enjoyed my nine course tasting menu at Adam's new venture in Birmingham, but those with a high blood pressure might want to steer clear.
Tucked very unobtrusively away in the centre of Birmingham, inside Adam's is a small, smart modern dining room with a professional bunch of staff who become friendly if you take the trouble. It didn't take us long to settle on the 9 course tasting menu. The wine list is short, and if you want to spend around £30 it's very short. That said both our wines were great.
A really fizzy little beetroot meringue with goat cheese stood out in the pre-starters, though all were good. First proper starter was a dish of brown shrimps coated in a warm bernaise and salt-n-vinegar puffed rice. I would have loved it without the vinegar, instead I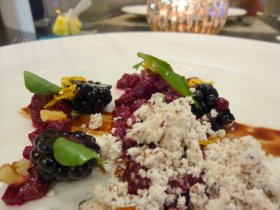 liked it a lot. Next was a pile of lovely crab with wickedly crabby bisque, punchy curry-flavoured dust and startling scorched sweetcorn. I loved every element of this, although they worked better apart than together.
Dish of the day: sea trout with egg yolk, denatured cucumber and oyster leaf (zoiks! It really is oysters!). The denatured cucumber was a very effective bit of chef-y wizardry that resulted in a compact oblong of cucumber that was more cucumbery than mere cucumbers are. Clever, eh?
I personally loved the venison tartare with blackberries and burnt onion powder. But it really had so much sichuan pepper in it that by the end of the dish my mouth was just a great big chasm of bitterness. I loved it, others may go agh-yag-yag-yag-yag-yag!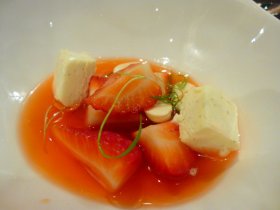 Halibut with garlic and lemon. The translucent fish would have been under for some tastes, but perfect for us. The garlic sauce was punchy and very, very seasoned. I'd say the same of the main course; a lovely piece of beef with sterling haggis and a blinkin' excellent tarragon puree, but seasoned to just a hair's breadth below ick.
Puds were good not great, though special mention goes to the palate cleanser: fresh peas with goat curds and a sweet lemon and mint curd. Spiffy is the only word for it.
Altogether I found this to be an exciting menu, full of inventive combinations and cool bits of kitchen wizardry. So as a keen experimenter I loved it. But some of the dishes weren't really the sum of their parts, and chef Adam is unashamedly heavy with the seasoning (when I mentioned it to our waitress she said "yes, that's his style"). It's great to have another fine dining option in the middle of Birmingham though, definitely worth a try.