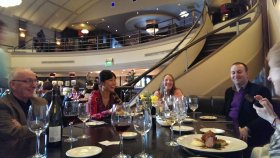 I was getting a distinct sense of deja vu.
I was reading the menu at The Daffodil and a dish jumped out at me from the starters: steak tartare with corned beef. Hang on, didn't Maureen have steak tartare with corned beef at Le Champignon Sauvage last weekend? My gaze wandered into the main courses and landed on a tasty looking dish: lamb with sweetbreads and goat curds. Hang on, didn't Maureen have lamb with sweetbreads and goat curds at Le Champignon Sauvage last weekend? I was getting a distinct sense of deja vu.
But to be clear, The Daffodil isn't setting out its stall as a bastion of inventive haute cuisine with a celebrated chef at the helm. Nope, The Daffodil's pitch is pretty straightforward. It goes: "yes, this is a converted 1920′s art deco cinema called The Daffodil, yes it looks bloody fantastic doesn't it, now here's some good food you can enjoy while soaking up the atmosphere."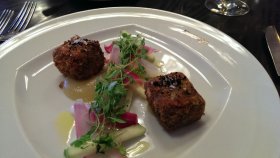 I started with some crispy breaded cubes of pig's head with an apple puree, an onion salad and crispy pig's ear. This was all pretty good, bags of flavour and the pig's head just sticky enough to be good. Maureen's beetroot terrine with breadcrumbed goat cheese was a very pretty plate, tasty too.
For main course I did go for the reprise of Maureen's main course from Le Champignon. It was a lovely lamb chop, some very smartly fried sweetbreads and lively little lumps of goat cheese. I'd definitely expect curds to be softer. It's not often you get to compare two nearly identical dishes in different restaurants just a week apart. David Everitt-Matthias needn't worry, as you'd expect the 2-star Michelin version is a mile ahead. But hey, I'm reviewing The Daffodil, and this was a darn good main for £17. Maureen's main was a bit of a Ready, Steady, Cook of an ingredient list: hake, orange, anchovy, broccoli, almonds. Apparently it was "okay". Meanwhile my brother and father were sharing a splendid looking chateaubriand and making cooing noises like a pair of chuffed pigeons. I snaffled a bit, soused in bearnaise, very good. From this I surmise that your best bet when ordering at The Daffodil is to look for classics.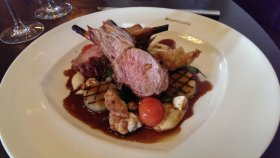 Mind you, my pudding wasn't quite as classic as it should have been; baked alaska with poached rhubarb. Good rhubarb, but the alaska was essentially white marshmallow fluff with a blowtorch played over it. Then again, Maureen's bread and butter pudding with vanilla ice cream and chocolate sauce was dead good.
We enjoyed the heck out of our meal at The Daffodil. It was a family celebration, there was live jazz on the small stage in front of the open kitchen, which was just brilliant in the art deco glory of the surroundings, and the food was pretty good. If the two of us had come alone to try out the food on a quiet midweek lunchtime, I think we'd have been ambivalent. So really I gotta recommend The Daffodil, it's a brilliant place for a celebration, but the bestest (or best valuest) food in Cheltenham it ain't.