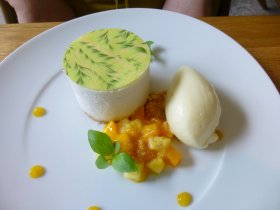 Our trip to Budapest was thoroughly gastronomic; breakfast, lunch and dinner every day we looked for Hungarian cooking both modern and trad, and washed it down with plenty of Hungarian wine. That's a thing that definitely ought to break into the UK market. Tokaji Aszu aside, the same region produces some fantastic, big dry white wines using the same Furmint grape. There's a lot of good reds too, we had some great specimens made from grapes I'd never heard of like Kekfrankos and Kadarka, generally low on tannins but still plenty complex.
Naturally enough we also add an awful lot of paprika, including wildly varying examples of goulash soup and catfish paprikash. They like their cakes in Budapest too, some good patisserie and in particular sour cherries and plums got used a lot. Apart from our meal at Onyx we didn't plan any of it, and so naturally we had some great good luck and some duff picks.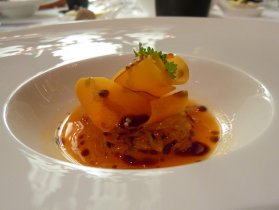 Good: a year-old wine bar restaurant called Zona that wouldn't look out of place in Notting Hill and served up some exciting plates of food; I really loved my slow-cooked wagyu beef neck with parsley sauce and raw ceps. Bad: a fine dining restaurant called Aszu that catered squarely for the well-heeled older tourist and totally failed to execute dishes that lived up to the attractive sounding menu. Onyx was our culinary high point.
Tucked behind and belonging to the venerable Cafe Gerbeaud, Onyx has a pair of nicely dramatic dining rooms with plenty of black and plenty of chandeliers. Our table included two rather incredible hooded black thrones for the ladies. We plonked for the "Hungarian Evolution" menu with a half-dozen courses for about £70. It started with a beautifully clean little dish of pumpkin carpaccio doused in an equally fresh pumpkin-y broth. Never been given raw pumpkin before, so straight away they get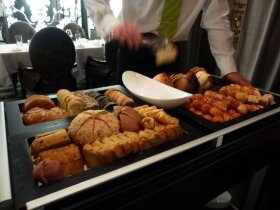 a tick in the "serve me something new" box. And then we were offered bread from a breadboard so magnificently replete with good things that I've forgotten most of them. The apple and oat bread was very good, though.
Six great dishes followed, not a duffer among them. The goose liver encased in sour cherry jelly was beautiful, with scrunchy salted almond bits in the other piece. Raw water buffalo was a full-flavoured meat that went exceptionally well with lightly pickled cucumber and a bright vinegary cucumber broth. Brook saibling is a new fish on me, obviously trout-ish, very delicate and with oddly green roe. Their take on goulash soup was a beauty, a stout-dark but crystal-clear consomme with a pronounced dash of paprika over a beef ravioli. The main course of venison was more obvious, with black pudding and beetroot. Good though.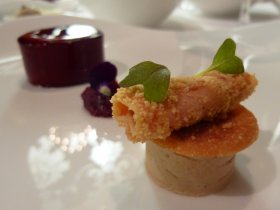 Pudding on the menu was a "21st century Somlo sponge cake" which the table concluded to be a tasty enough concoction but nothing to light a fire with. I went off-piste with an a la carte dish of Brillat-Savarin cheese served with pain perdu and salted almond ice cream. Lovely ice cream, but the tasty chunk of brie-ish cheese felt like it had just leapt off the cheese trolley onto my dessert rather than a thoughtfully integrated element. Wrong cheese for the job, I reckon.
We enjoyed Onyx immensely. The deluxe decor and excellent service made for an occasion, the food lived up to it in top-drawer style, and the Hungarian wine flight was a proper showcase of the country's best plonk. Service charge and all it was about £120 per person, which compares perfectly well with the same quality back in the UK. Mind you, it's worth noting that further down the price scale you can eat out very well in Hungary for peanuts. Big thumbs up for Onyx though.