Zut alors! Zis restaurant is outRAGEously French! From the lace curtains in the window to the peppering of French words scattered into our interactions with the staff ("Bon soir, would Madames et Messieurs like to seet down?"), L'Artisan feels like a glorious throwback to the time when eating French food was a special novelty for the middle classes back from their summer hols in the Dordogne and small restaurants sprang up throughout the provinces to meet this desire with coq au vin and crusty french bread without a side plate ("it's just like being back in Perpignan!").
I was particularly intrigued by a young waitress bearing a name-badge labelled "French trainee". Was she a trainee waitress who happened to be French? Or a waitress being trained in how to be French?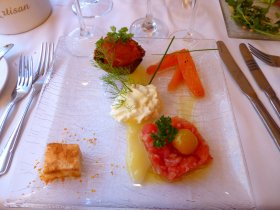 So what was the food like? Maureen went for the straight-up bistro staples; snails to start, tartare for main. The snails were a good size with proper garlic butter (though I was sadly informed that Brasserie Blanc does 'em better). The tartare was attractively presented, well dressed with the right accompaniments, and was a good bit of beef. My starter was a lighter "variation de la tomate", with tomatoes presented a few different ways. The bloody mary sorbet in a dark brandy-snap basket was great, very punchy and a clever combo. The rest were tasty, though hardly dizzying gastronomy. For main course I picked a classic parillada of five fish fillets with saffron aioli. It's a testament to the cleverness of French cuisine that this was a delicious and satisfying dinner, because in reality the mackerel and salmon at the very least were terrifically overcooked. Saffron aioli apparently makes everything okay! Worth noting: the vegetable accompaniments, shared around the table, were very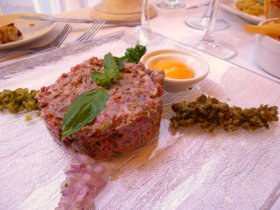 good; a set courgette mousse, a little filo basket of ratatouille, sweet fennel, etc.
For pudding I pushed the classic French theme to bursting with a creme brulee. Well, I had to. It was a good one with a nice crisp caramel top and no sign of splitting inside. Maureen's sorbets were clean and tasty, being most remarkably for coming accompanied with a marzipan spoon. Normand tradition?
So, L'Artisan. A competent bit of outrageously French cooking in the middle of Cheltenham. Actually, Cheltenham is exactly the town I'd expect to find a place like this, and I'm sure they'll do well here. The prices are a little more than Brasserie Blanc up the road, the food of a similar quality. If I'm honest then I was probably expecting a bit better before I went in.