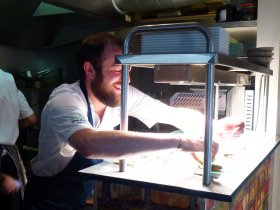 "Make sure you don't complain about anything," offered our Bed & Breakfast owner helpfully when we told her we had dinner booked at Menu Gordon Jones. "He's got a bit of a reputation…"
This came as a surprise to me, as I knew nothing much about Gordon Jones except that he's been impressing diners at his tiny 15 cover restaurant in a quiet corner of Bath for about a year. Over the course of the meal I learned a bit more, as the kitchen is so "open" that Gordon can take literally one step away from his pass to whisper conspiratorially in his rum Glaswegian accent "that's garlic stem, that is – it's only in season for a couple of weeks so I'm using it on everything!" Gordon is working hard (or effortlessly?) at being a new breed of knowingly-informal-yet-casually-excellent chef, and because it's still an unusual thing to find it's actually a lot of fun. If you'd find the casual intimacy of the chef asking you how you're liking your bread a bit much, as Gordon himself might put it: you should get yourself back to flippin' Bath Priory.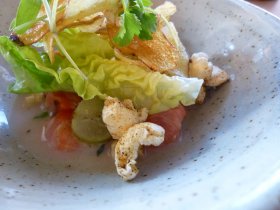 So what did we have? Well, a smashing bread course to start. Nice and hot and sweaty in a bag, with lightly creamed humous, basil oil, chorizo oil and balsamic to dip it in. Couple of neat little onion and beetroot bhajis on the side. First starter was a right old fridge buffet concoction of ceviche sea trout, popcorn, lettuce, crisps and gooseberry – nice kick of citrus and a clear statement of intent. This was followed by the bestest presentation of devilled kidneys that I've ever had. Helped along by crispy proscuitto and chorizo and an indelibly tangy sauce with nifty touches like candied hazelnuts and fat white currants on purple carrot puree.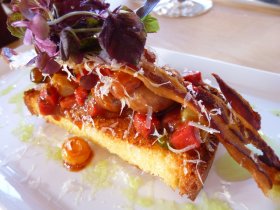 So, no surprise the fish course was punchy. A lovely piece of John Dory with crab, pickled shitake, a rich swede mash and scorched garlic seed heads. Frankly I've always got time for a chef who introduces me to something new! The whole dish was wicked flavourful, my favourite so far. But then the main rocks up. Chef describes it as being like a deconstructed pastilla (as he grates a huge truffle onto it at the table), but it's just as fair to call it a highly refined cassoulet, especially as he's taken the trouble of including a piece of the finest French smoked pork sausage I've ever tried. The quail is a star, especially the tiny leg on the bone. To be eaten like a very refined caveman. Yum. The borlotti beans at the base are delish, as is the little stick of sweet onion-seed coated pastry that stands in for the pastille.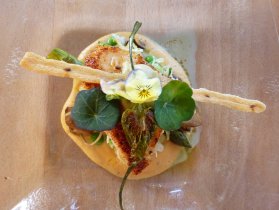 Pre-dessert was awesome. Why haven't I been fed sweetcorn sorbet before? Honestly. Yum. The main dessert was a lovely peach tart tatin, a very satisfying close.
Our meal at Menu Gordon Jones goes straight into my top-three for the year. You could argue that the powerful flavours Gordon uses are always going to be delicious, but there's some great magic here in presenting them in a beautiful and balanced menu. There's a lot going on, and yet there wasn't a single mis-step. If I lived in Bath I'd be here every other week, after all the tasting menu is a mere £50 and the wine pairings an extra £35 (a good selection shared with real passion by the sommelier, Italian and Spanish this time, and mostly organic). You'd be a muppet to complain about any of it.