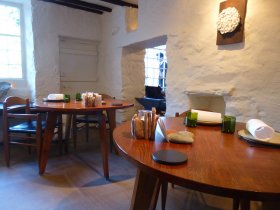 In Cockermouth we ate in a "fine dining vegetarian restaurant". I won't embarass the Quince & Medlar by naming it, but this was fine dining like an earnest attempt at a dinner party by your vegetarian student friends. A couple of days later we had an amazing dish of potato and burnt onion ash that had not a speck or drop of meat in it and so was perhaps the best vegetarian dish I've ever had. This was at L'Enclume. Maybe the problem is that (with one or two exceptions) vegetarian cooking is too small a niche and has too many worthy connotations to attract really top notch chefs?
L'Enclume holds a special place for me – it's the first meal I ate outside the Fat Duck that was exciting, original, entertaining and delicious from beginning to end. This was nearly ten years ago, mind you. We enjoyed a "razor clam reversal" and a "deconstructed Lancashire hotpot" among other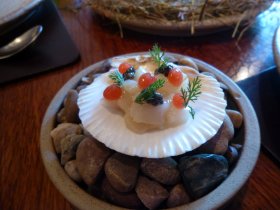 delights and I vowed to return (you have to vow to return, because it's in the Lake District which, for a poncy southerner, is pretty much the farthest place from anywhere without accidentally ending up in Scotland). Now that I have, I can actually review it on da blog. So is it still all that good?
Yup.
Okay, okay, I'll say some more.
The dining room really evokes Cumbria, with white-washed walls of blocky stone and black slate floors, warm mid-century Scandinavian inspired furniture and some restrained ceramics on the wall. I keep my blogs short, so you're not getting all twenty courses of the menu described. The first – a little grey meringue pebble filled with an amazingly clean concoction of oyster – was magic and it only got better from there. The scallop dish with strawberry puree was another of the best pre-starters, as was the crispy beignet of smoked eel and ham hock.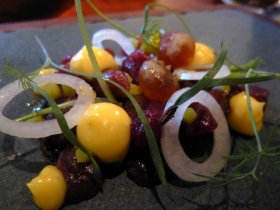 Special praise for the venison tartare served with charcoal oil and fennel, including a couple of tiny poppers of candied fennel that I would have gobbled by the bucketful. The punch of flavour from the charcoal oil stands in contrast to its dramatic but fairly flavourless use at Story. There was a stunning double dish of langoustine – a delicate tartare on a crisped cracker on top, and a meaty chunk beneath covered in a deeeeeply flavoured glazed sabayon. It was like Scandi-above, French-below. Whatever that means. Actually if I give a special mention to all the memorable dishes I'll basically do all of them.
Instead I'll just linger on what I think is most special about Simon Rogan's cuisine, something I recognised first at Roganic last year. It's the proper, positive and effective use of foraged ingredients. Not the "look how clever we are, we garnished your dish with something green from a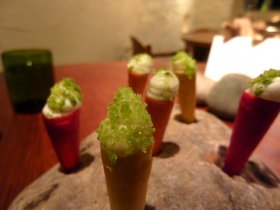 hedgerow!" of most modern restaurants. Simon picks wild ingredients with flavours that really sing, that stand in their own right and centre a whole dish, and it's kinda unique. One of the desserts was a meadowsweet cream, and it had the most wonderfully sun-soaked and delicate barn-straw and meadow flavour. One of the tiny ice creams at the very end was flavoured with pineapple weed, a sort of super-floral chamomile hit. Elderflower brought something new and bright to the delicious main duck dish.
Over twenty courses and a couple of very good glasses of wine the sommelier picked out for us we enjoyed our favourite meal of the year (so far). For the adventurous foodie I can't recommend L'Enclume highly enough, there's probably only two or three other candidates in the country for pushing the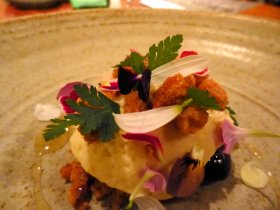 boundaries this far while remaining faultlessly delicious throughout. Then again, it's also in the small club of restaurants whose tasting menu has gone over £100, so it's unlikely to become a local favourite. More a place of pilgrimage, convenient for being at the gateway to just about the most beautiful part of the country to boot.
Postscript: just a note-to-self really, about service in these bastions of modern fine dining. The room at L'Enclume was quite hushed, and the tables quite intimately close together. As such it was actually really easy to hear the staff introducing all the dishes with exactly the same rehearsed phrases and little bon mots as they introduced them to us. Somehow what was intended to feel personal and unstuffy instead felt very rehearsed and artificial. Not that you could expect busy staff to find new and different ways to introduce twenty complex dishes to twelve different tables! I'm just saying. : )