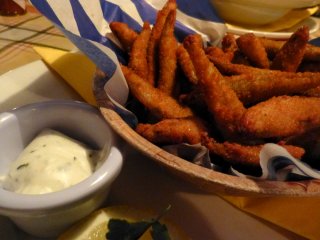 Our three day walk along the SW Coast Path held an unexpected treat to go along with the stunning views of cliffs and seas and sailing-boat speckled estuaries – some really bloody good food. Perhaps it shouldn't be a surprise, the South Hams are renowned for soaking up the money of the rich and famous who want a little country retreat not too far from a yacht mooring. But prosperity doesn't always pair well with good food, so it's probably more to do with the strong locavore foodie movement down here – let your eye wander across the map and you'll spot names straight from your local deli-cafe like Luscombe and Sharpham.
We booked a table at the Oyster Shack for our last night as a little celebration, but let me give you a quick whip around of some other good places to eat along the south Devon coast.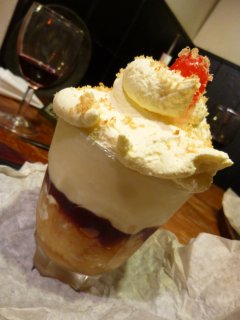 The Journey's End Inn, run now by a chef from the famous Burgh Island Hotel, served us up some no-nonsense big flavours. My courgette fritter was more of a spicy bhajee, but it was a very good one with a neat touch of ricotta whipped with honey. Maureen's burger was a fantastic specimen – the meat had come from somewhere within a few miles and it was obvious that the lush grass and sea air does the beef cattle some good, the flame-kiss was envy-inducing and they'd kept it properly rare (sssh… don't tell the health police). My whole grilled mackerel was drop-dead gorgeous, paired up really smartly with crispy bacon and pinenuts. Bit disappointed with the trifle; mountain of whipped cream with some boozy jam sponge below. Note: if somewhat random service gives you a nervous tick, maybe steer clear. And you'll have spotted by now that I scarcely ever mention service, so.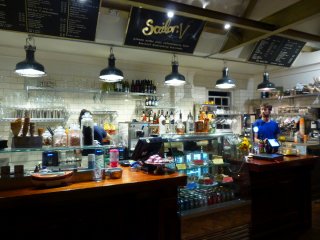 Sailor V in Salcombe is a new cafe and kitchen (perhaps only doing evenings in the holiday season?), and they do a great coffee. Maureen's evening meal was a pan of scallops, black pudding and chorizo; dead simple, well done, and corals still on the gorgeous local shellfish. My pulled pork was "olde English style" – no sign of barbecue sauce, this was just juicy fibres of pork served with sweet apple sauce, sauteed new potatoes and a creamy slaw.
And a cheerful shout out to the Rose & Crown in Yealmpton – a 100% catalogue-furnished modern family dining pub, but entirely independent, and they put out a really mean lemon sole with sauce bearnaise and an even meaner battered cod and chips with seriously good tartare sauce and a great pea puree (when I say "mean" I mean good by the way, just in case you ain't hip like me).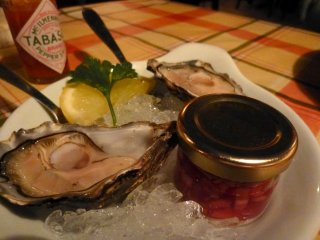 Finally, the Oyster Shack! We'd been before. It's a deliberately ramshackle little joint, cheerfully painted and decorated in strong seaside colours, at the end of a tidal road. Very eerie when we drove away at the end of the night to find the road had vanished beneath the inky black waters… luckily there is an alternative route. They're here to provide simple seafood and plonk to the jolly tars of the yachting community and they do just that, with smiles and good service.
Maureen started with crab soup, garnished with a Fresh-style crouton ("take ze slice of cheese on toast, drop eet in ze zoop") and veeeeery good. She also snaffled two fine, small, sweet oysters. I gobbled up an entire bowl of crispy whitebait, disappointed that there wasn't quite enough aioli. My main course was a whole John Dory, very smartly accompanied by a sauce vierge of fresh tomatoes and capers. Maureen's was a fillet of sea bass with clams on top of a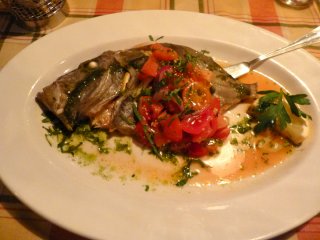 creamy wild mushroom risotto. What both dishes had in common was an absolutely perfectly cooked bit of lovely fish. And I have to big up the risotto – made with a selection of some of the species we'd seen growing wild on our walk, rather than the boring default "wild mushroom = dried porcini" that most places fall back on.
We slurped some appropriately crispy white wine, and finished with a tasting plate dessert that included a frisky elderflower jelly with a fat frozen gooseberry on top but was otherwise just a light and forgettable sweet ending. The whole meal was about £35 per head without drinks. It's a great spot for a seafood supper – tucked out of the way and totally suited to a summery Devonshire holiday. I wouldn't have minded if we really had been cut off by the tide.