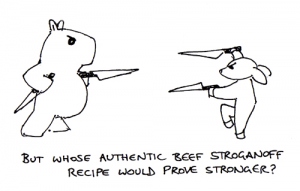 Thumbing through a few recipes on-line to see how other people tackle Stroganoff, I quickly discovered that it's one of
those
dishes. The ones where even the "taught to me by a chef at the Kremlin so it must be authentic" recipes contradict each other at every turn. Apparently it should definitely include mushrooms or never include mushrooms, be spiced with paprika or be spiced with mustard, include white wine or include brandy, be cooked very quickly or cooked very slowly. You get the idea. Having always associated it with paprika I was particularly surprised to find that mustard probably is the authentic spice. Just about the only common theme is that you should use the most expensive bit of beef you can find. Fillet, ideally.
I do mine with skirt steak, because I have to be different and because I'm cheap.
The skirt steak is a very flavoursome yet reasonably priced piece of meat, but not often used. You may well not even see it on display at the butcher, in which case just ask. When you get a piece you'll see that it's very obviously fibrous in one direction, and so the two crucial tips for enjoying it are: (1) cut across the fibres when you cut it up, (2) cook it rare or at the very most medium-rare. If you need your beef well-done then you'll have to cough up for fillet!
Beyond that, this is my own personal Beef Stroganoff and I don't guarantee that it is authentic. I do guarantee that it is quick, exceedingly delicious, and that you won't be able to resist serving yourself a big glass of red wine to go with it.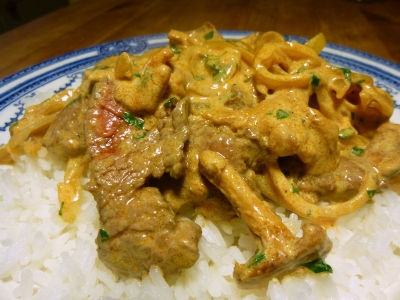 Beef Stroganoff (serves 2)
½ lb skirt steak (or fillet)
a few interesting mushrooms
1 onion, sliced
big knob of butter
1½ tsp smoked paprika
1 tbsp brandy
2 tbsp crème fraiche/soured cream
1 tbsp chopped flat-leaf parsley
squeeze of lemon juice
Cut the skirt across the grain into roughly finger-sized pieces, set aside
Saute the onion, mushrooms and paprika in the butter for a few minutes – you don't want them browned or even totally soft. Season with salt and black pepper. Put them in a warm bowl
Get the pan on a high heat, add a little oil, and swiftly flash-fry the skirt. You want to sear it, and you really want it rare inside. Nothing more than 30 seconds, perhaps a minute. Set it aside in a warm bowl
Back in the pan go the onions and mushrooms, medium heat, add the brandy and cook for just a minute
Add the meat, parsley, squeeze of lemon juice, and stir in the crème fraiche. Check seasoning. Just give it 30 seconds for the cream to heat through, then serve
I usually serve it on a bed of plain rice, but you could equally go with potatoes, chips, bread, whatever starch you want. But here's the essential point: it's a really, really quick dish. Also it's divine.