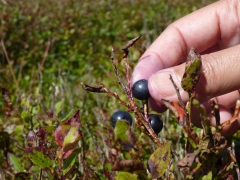 Bilberries are one of my favourite wild foods, right up there with
wild garlic
and
parasol mushrooms
. They start to appear in August and can be got into September, it all seems to depend on where exactly they're growing. You'd also be well advised to look for them somewhere that sheep aren't grazing, as the fat woolly lawnmowers will happily nibble up all the berries they can find. Up here in Shropshire you can see this easily comparing The Long Mynd and Stiperstones, both beautiful hills clad in bilberries and within sight of each other. Yet the sheep-grazed Mynd is miserable pickings while on Stiperstones we picked half a kilo in half an hour. This is well worth doing, as they pack a whole lot more flavour and goodness than their bloated cultivated cousins the blueberries. And of course food you found yourself is always better. Somehow the dark purple stains on your fingers that resist all attempts to wash it off just enhances the taste!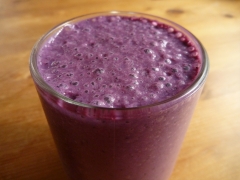 A couple of handfuls of bilberries make for a very intense milkshake. This one was made with a few scoops of proper vanilla ice cream, a splash of milk and a couple of juicy peaches too. Depending on how sweet the bilberries you've got are it may be helpful to add a couple of teaspoons of sugar. I also added a couple of spoonfuls of bilberry sauce for intensity.
This simple bilberry sauce is my favourite thing to do with bilberries for sheer versatility. It intensifies the flavour and you can judge the level of sweetness to balance out any sourness in your crop as I have to admit that bilberries eaten straight from the bush are a bit of a lottery. There are always a few face-puckering moments.
It's a sweet sauce, perfect on ice cream, muesli, yogurt or anything else needing an intensely fruity hit. But the power of the fruit is enough that you can pair it as-is with savoury foods like duck, mackerel, game, lamb or cheese. Or, use it as a base: I added a couple of teaspoons of brandy and a tablespoon of sherry vinegar to a few tablespoons of the sauce and then simmered it gently for another ten minutes before serving on poached and pan-fried pheasant breast. Another one that worked well was to saute some shallot and garlic in butter, then add the sauce and a teaspoon of Dijon mustard. Finish with a splop of cream.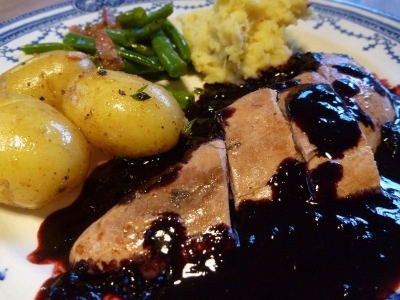 Bilberry sauce
250g bilberries
2 tbsp apple juice
2 dsp honey
juice of half a lemon
4 star anise
pinch of salt
Rinse and drain your bilberries, picking out any leaves and bits of twig that got in the tub
Put all the ingredients in a small saucepan and simmer for about 20 minutes
Check the balance half-way (blow on the spoon, the sauce will be volcanic!) and add more honey or lemon as necessary.
Pour into a jar straight from the heat and put the lid on, turning upside-down once – the sauce will still be well above boiling hot and that sterilises the jar and lid pretty well. Note: there's no need to pass through a sieve, there are no noticeable seeds in bilberries and the sauce is better for the texture of the berries.
Enjoy!