I'm a big fan of the recent revival in unusual and old-fashioned cuts of meat. Some of my favourite recipes are slow braised oxtail in mustard, wine braised lamb shanks or sticky slow-cooked pig cheeks. One thing bugs me though. Food writers who alongside their recipes lazily reiterate a view no longer true; that these cuts are not only delicious but also cheap as chips. It's basic supply and demand; as they become trendy these oddities cease to be quite such a giveaway. Considering the amount of bone in a pack of oxtail or a couple of lamb shanks, these meats don't look any cheaper to me than a nice rump steak, pound for pound. The same is true in the world of fish: ever since coley started appearing on menus and we realised that it isn't only good for cats and dogs, the price has nudged up ever closer to haddock. Where are those of us with an adventurous palate and an eye for a bargain to look now?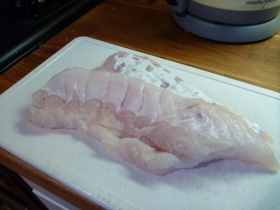 And so we come to cod flaps. Which I'd never heard of before yesterday, but are nevertheless hard not to laugh at. I can't even find much on the internet about them. That surprised me. The really eye-catching surprise was the price, almost a quarter of the price of cod fillet. Yes, not "25% off" but "25% of". So I bought a load, and we had them for supper last night and lunch today.
For supper I made a quick Thai-flavoured stir fry with garlic, ginger, chilli, spring onion, lime leaf, fish sauce and lime juice. Good flavour, and the texture of the fish was pretty much as I'd expect from cod, perhaps a little more fatty but certainly holding together and enjoying the dousing in sweet/sour/hot flavours. As an aside (and as a side) I also did a celeriac som tam, another very good though more strongly flavoured swap-in when you can't get green papaya for your Thai salad.
For lunch today I whizzed up some quick tartare sauce (for which I must thank Delia) and then breaded the last of the flaps in maize meal (aka polenta) for shallow frying and serving with buttered Jersey royals and beans. This was fairly perfect, the flaps being just the right thickness for shallow frying and their slight fattiness keeping them moist in their crisp coating. I commend this as the perfect use for cod flaps.
Go forth to your fishmonger and demand your flaps today!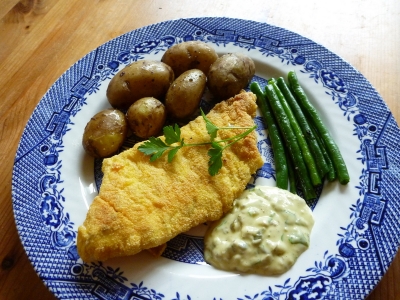 Crispy cod flaps with tartare sauce (serves 2)
4 cod flaps (2 for light lunch)
4-5 tbsp maize meal (polenta)
1 egg
salt and pepper
For the tartare sauce:
1 large egg
½ tsp sea salt
1 small garlic clove, peeled
½ tsp English mustard powder
1 dessert spoon lemon juice
4 cornichons
1 tbsp rinsed & drained capers
1 tbsp flat-leaf parsley
ground black pepper
Make the tartare sauce to Delia's recipe: put egg, mustard, salt and garlic in a food processor and hit start. Drizzle the oil in sloooowly until it's all combined into a thick sauce. Add the other ingredients and pulse until they're all chopped up. You'll have way too much, but it'll keep in a jar in the fridge for a week.
Beat an egg, season well with salt and pepper. Pour some medium-grained maize meal out onto a plate.
Dip your flaps (tee-hee) into the egg and then into the maize meal, turning them over a few times until thoroughly coated
Now get a layer of vegetable oil up to a high heat in a big frying pan and shallow fry the flaps for a couple of minutes on each side
Serve with tartare sauce, a sprig of parsley and a squeeze of lemon juice. Buttered Jersey royals and some green beans make a good accompaniment.