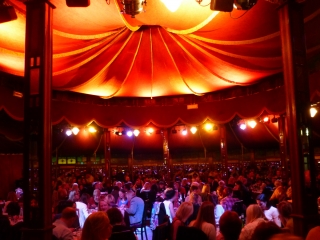 Sounds jolly intimate, but in fact this was a Cheltenham Literature Festival event, held in a rather splendid Spiegeltent, and we totted up and figured out that the number of covers was around 270. The evening consisted of a three-course chilli-inspired dinner with an interview with Thomasina between main and dessert. The audience turned out to be a mixture of punters like us who had bought tickets, and corporate invites from the main sponsor – HSBC.
The interview was interesting, the creator of Wahaca and first winner of the current incarnation of Masterchef has had an interesting and varied life and career, in and out of the catering industry. She's had some lucky breaks and clearly moves in circles that are full of connections, but also quite obviously has the kind of outgoing and entrepreneurial personality that grabs hold of opportunities without some of the lip-chewing and not-sure-if-I'm-qualified hesitancy many of us would have. She talks about the epiphany of discovering real Mexican food and then wanting to bring it back to the UK, to challenge the assumption that it's all cheese-and-jalapeno Tex-Mex stodge. I remember thinking exactly the same thought, easily ten years ago; "why hasn't someone done anything imaginitive with real Mexican food, like some of the top places are starting to do with Indian?" The difference, I guess, is that I had no idea what to do with that thought; the courage to think "why not me?" is perhaps the most distinctive feature of the entrepreneur.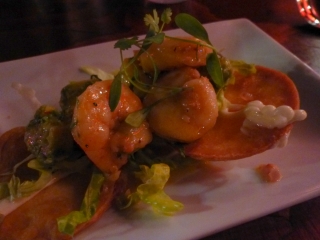 But enough soul-searching, how about dinner? Interestingly, in her interview Thomasina mentioned that the food tonight "wasn't as hot as I'd have it." And frankly, it was a bit of a let down. I'm sure they were her recipes, but the event wasn't catered by Thomasina or even by Wahaca, it was a catering company out back cooking up her menu. Perhaps that's unavoidable for 270 covers, but given her comment about the heat (or lack thereof) it does leave me wondering if we weren't sold a pig in a poke. If you went to an event that advertised Rene Redzepi's Scandinavian Cuisine only to find it was a UK catering company cooking up some of his recipes, would you feel the advertising somewhat mis-representative?
Anyway, starter was prawn tostadas. Juicy prawns, cooked just right, and very good corn tostadas. The chilli peanut oil actually seemed to be a mildly spiced mayonnaise. The whole thing tasty, but packing little punch. For main course, a beautifully braised piece of beef in a pasilla chilli and prune jus. Again, the fruity pasilla was discernable… but if I have to use the word "discernable" you can see we're not exactly punching our weight in Mexican authenticity. Sweet potato mash was good, savoy cabbage was just boiled and also completely the wrong accompaniment for the chilli beef. For dessert we had treacle tart with a vanilla cream on top. The tart was insanely sweet, the pastry case really was a case – it might have survived the luggage handlers at Heathrow. And on this course I'm not sure if the word "discern" is even delicate enough for the slightest hint that some chilli might have been left near the tart at some point in its creation.
Yeah, so, the meal was what it was – a corporate lunch in the evening in a tent. I'd still like to try a Wahaca some day, because this clearly wasn't it, and I'd certainly vote for a branch in Cheltenham – the town sadly has no Mexican options as all (unless you're counting Chiquitos?).