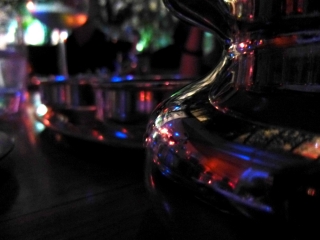 The dining room at
Chutney Mary
is certainly a good place for a celebratory meal, especially if you can get a table under the conservatory at the back. Surrounded by palms with a leafy tree overhead you might almost – almost – be eating under the stars in a palace garden in Udaipur. The lighting is certainly set to about the same level that you'd get from a couple of big candles.
We opted for the tasting menu, and it started predictably with a scallop. Admittedly this one was set on a pool of pistachio sauce freshened with various bright spices and a blob of tomato relish. Yes, "various spices". My palate for Indian food isn't good enough to pick out all the various spices, not by a long chalk, so I'll have to be descriptive rather than precise! Well cooked scallop, good sauce.
Next starter was a succulent piece of tandoori chicken with a tangy strawberry chutney. The tandoori flavour was spot on, as was the cooking. This was followed by a lamb chop, again extremely adeptly griddled and clearly good produce even through the spicing.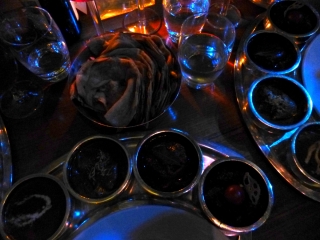 Our main course was something of a thali: four bowls appeared containing a lamb chakuti, a pungent Goan chicken curry, a tarka daal and a spinach dish akin to a saag bhaji. If my spelling of these dishes doesn't match yours, then I'm only following in the footsteps of most Indian restaurants. Anyway, what to say about the dishes? I have to summarise, really. Each was good, a well-executed specimen of its type, although I've had better daals.
Service was friendly but a bit on the patchy side, drink requests forgotten and the like. Bringing out a cupcake with a sparkler in unbidden was a nice touch, except that the waitress presented it to my father whose birthday it was not. The birthday girl did get her cupcake, although the sparkler had by then fizzled out. Oh, and the waitress still wished my father happy birthday when we left.
So that brings me fairly swiftly to my conclusion. Despite the glitz of the reception area and the desire to seem gourmet by offering a "tasting menu" at £45, what we got at Chutney Mary was a very good and very traditional British curry (with a crème brulee for pud). And that's odd. Because their menu offers a host of seemingly more interesting looking dishes, while the wannabe gourmands like us who opt for the tasting menu are given the safest options. Whyssat?
Oh well. I like Chutney Mary anyway. It's a good place to go for a top-notch celebratory Ruby Murray, albeit at King's Road prices.