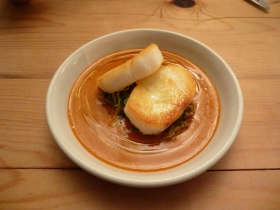 Nathan Outlaw's second outpost in Cornwall is the nifty little Fish Kitchen in nifty little Port Isaac. This dinky little fishing port crouches at the bottom of seriously big cliffs and is vested with far more restaurants than the local population could ever need. Actually, I'm not sure how much of a local population there is; there are signs to suggest that every single twee little slate-roofed fisherman's cottage has been a holiday let for many years.
So, the Fish Kitchen. It's all scrubbed tables and bright, casual seaside vibe within the small dining room. The staff are friendly, explaining the concept of the menu for those who can't work out what "small plates" might mean, and asking which was your favourite dish at the end.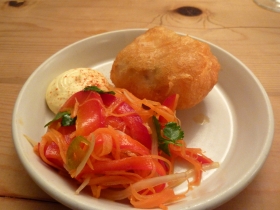 Well, the salt cod in red pepper sauce was my favourite dish; a beautiful little medallion of home-salted fish just briefly seared on the grill. The sauce wasn't exactly bursting with capsicum, but the fish sold it to me. I'm a sucker for salt cod. Crispy battered ling with wasabi mayo and a pickle salad was great, likewise the beauty of a smoked haddock scotch egg. I didn't quite get the queenie scallops in hazelnut and coriander pesto; the coriander flavour was completely cooked out and wrong for hazelnuts anyway, and the grainy texture didn't favour the dainty little scallops. More positively, there was a great gratin of fennel and parmesan, the fennel taste really punchy. We devoured a moorish plate of shoestring potatoes too.
And if you can restrain yourself on the small plates (that's seven we shared) you have room for pud. Which was worthwhile, as Maureen enjoyed a gooey and delicious rice pudding that was bang-on for texture, while I ravened my way through a very tasty piece of grilled pineapple with cream cheese and lime ice cream. Zing!
All this sounds pretty damn good, and it was. The sticky bit is the bill, which not including the 4 glasses of very drinkable house white came to £75 for the two of us. Not astronomical, but pushing the bounds for a light meal in a Cornish fishing village. We were staying for four nights in Port Isaac, and I would love to have eaten at The Fish Kitchen every night. My wallet just refused.