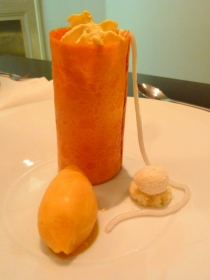 Bordeaux is a delight for foodies of a certain stripe. If your idea of pleasure runs to chocolate, macarons, cheese, patisserie and fine wine then this is the place pour vous. It also has oodles of interesting looking places to eat, once you get over the standard set that appear in all the "Top 5 Places To Eat in Bordeaux" articles scattered over the internet. The one that we found, with a Michelin star to its name indeed, was
Septième Péché
. Whose name translates as the seventh sin, not the seventh fish as I had assumed.
This is a small restaurant tucked away on a big street. The two dining rooms are simple with some bold photographic art on the walls, and the service was friendly and pleasantly informal as French Michelin'd places go. Needless to say there was some pricey Bordeaux on the wine list, but there was plenty at the more reasonable end too.
Our five-course menu started really well with a shot glass of hot and deep crab bisque. A little too hot, actually, we had to juggle the shot glasses gingerly by the base. First starter was a salad of very toothsome squid and herbal greenery, topped with a disc of squid ink pasta. Then the speciality of the house, a gently coddled and breadcrumbed egg served with various fungal goops. Och, actually it was a very pretty plate of food, and fully fungal in taste too, but it was essentially four purees attended by an almost liquid egg and a little bowl of mushroom broth on the side. I'm glad I hadn't scoffed all my bread as this needed a mop rather than a fork.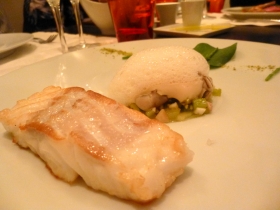 For main I chose the cod, a well cooked piece of fish with a very sprightly accompaniment: oysters, celery and sauce bearnaise all tied together with a warm oyster sauce. This bounced around on the palate really well; salt from the oysters, butteryness from the sauces, fresh green crunch from the celery. The other main was a good plate of pigeon, including breast and leg and a tiny cigarette of offal. Tasty. It was presented under a glass cloche full of bonfire smoke, and I do rather like my dramatic touches so I can forgive the watering eyes.
Pre-dessert I liked; lime sorbet, vanilla espuma and a shot of tangy lemon in a test tube. Proper-dessert I didn't like; a plate of chocolate that was all about presentation. The chocolate mousse was perfectly good, but the white chocolate globe was contained in a ridiculous and rubbery spherification that we all enjoyed chasing around my plate with forks until it was finally pierced. Inside? Melted white chocolate goop. There was a curl of sugar and a decent passionfruit sorbet too. To be fair, the other dessert, a dramatic looking precipice of bright orange tuile with an intriguing white spaghetti fuse, was a very tasty mango affair with a zingy sorbet, although the coconut spaghetti was more fun than flavour.
It's a small restaurant with an ambitious chef, and I think the odd miss-hit in the balance of textures and flavours was forgivable for the E60 price tag. To my mind it's one of those roulette restaurants – go along on another day, and the chef might nail five perfect dishes. Worth a visit.