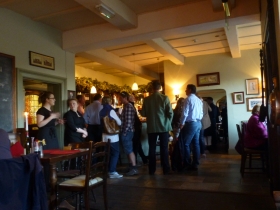 There are Jospers, Inkas and Big Green Eggs sprouting all over the restaurant kitchens of Great Britain, and of course the food on our plates is all the better for that kiss of char and smoke. It's easy to think of it as a new thing, something brought over from the barbecue cultures of the US or Australia. It's only when you enjoy a beautifully grilled steak in an atmospheric and quintessentially pubby pub like
The Parkers Arms
up in the wild Forest of Bowland that you realise, of course, this is what food always used to taste like. Okay, maybe not so damn good, but go back beyond a century and fundamentally everything was baked, roasted, boiled and grilled directly over wood fire and coals. Mmmmmm.
The Forest of Bowland is an utterly unspoiled area of fell country tucked between the Lancashire coast and the Yorkshire Dales. This is terrifically convenient, because everyone goes to visit those far more famous fells and Bowland is left to quiet, wild splendor. The Parkers Arms has an enviable position in the middle of all this, overlooking the River Hodder from the village of Newton-in-Bowland. The pub is a beaut, a big welcoming room with a roaring fire and plenty of room at the bar. Plus a few tables for dinner! The local beer is good and there's a decent little wine list with three of each colour by the glass.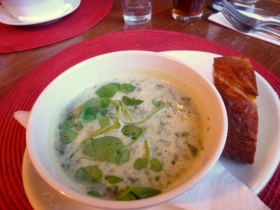 I never have soup to start, but we'd been driving past drifts of wild garlic all day, so the wild garlic and potato soup was too good to pass up. I was smitten with the bread alone, a lovely strong chunk with a good crust and a smokiness from being warmed on the grill. The soup was a perfect balance; not creamy, not austere, very garlicky. Maureen's mussels and spatzle in seafood broth was delicious, strongly shellfishy and not too creamy either. And not a single duff mussel.
For mains I had the 28 day skirt steak, a favourite of mine already but this piece was just wonderful and cooked to perfection. Traditional accompaniments – big grilled tomatoes and mushroom, fat onion rings, triple-cooked chips (good triple-cooked chips) and a heap of refreshing watercress. All kinda dressing really, the steak was the thing. Maureen hit on a game pie, drawn to the hand-raised hot water crust pastry. I'm not pastry chef enough to know what that even means, but in practice it was a beautifully crisp, sturdy, tasty yet not heavy pastry around a superb game and pork filling with a really strong herby flavour. The dish worried me on arrival; pie, chips, veg, no sign of any gravy. Uh-oh, no gravy. Y'know, I would dearly love to know how they make a meat pie filling so delicious and moist that it needs absolutely no gravy. Best pie ever.
I squeezed in a wet nelly before leaving. It's a traditional Lancashire pudding, what do you think I meant? Something like a treacle tart, but absolutely packed with dried fruit and citrus peel, the citrus present enough to cut some of the richness out. It fit the location perfectly. I do love the occasional pub meal where I feel like I might have slipped backwards a couple of centuries. Alas, the car waiting outside always gives it away. Next time I visit the Forest of Bowland I'll be back to the Parker's Arms like a shot.