Guest post by my good friend Vanessa Johnson
These scotch eggs are perfect, and I guarantee that everyone at your party will give them a very impressed "oooOOOooo!" Without further ado, over to Vanessa…
I love scotch eggs, always have, they're great for parties and picnics…. however, most of the ones you end up buying in supermarkets are a sorry excuse for a scotch egg. Over the past year I've decided that I must be able to have a go at cooking some fab scotch eggs. I've made them with normal hen eggs, but then decided I'd try them with quails eggs and since I've swapped to quails eggs, I've not gone back. I've made these a few times for parties and for a champagne picnic in the interval of the opera at Glyndebourne and they are easy to cook and even easier to eat.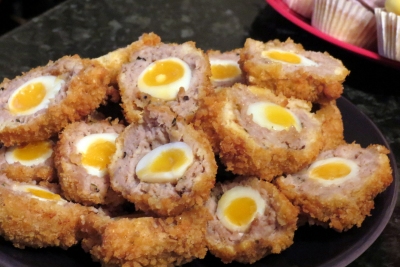 Scotch quails eggs (makes 12)
Ingredients
12 quails eggs
500g-600g good quality pork sausage meat
cracked black pepper
herbs
spices
2 beaten hen's eggs
flour
panko breadcrumbs
vegetable oil for cooking
Start with boiling some water in a saucepan. Once it is up to boil carefully add in the quails eggs. As soon as the last one is in, set an alarm for 100 seconds. Fill a large bowl with cold water and ice and when the 100 seconds is up put the eggs into the cold water to stop the cooking process.
When the eggs have cooled a little, peel the eggs being really careful as the yolks should still be runny and therefore the eggs will be a bit delicate.
Mix the sausage meat with pepper, and any combination of herbs and spices that you want – I put in a little mixed herbs and cayenne pepper.
Divide the sausage meat into 12 balls and then press one out to be fairly thin and to be the size that will wrap around one of the little eggs. Mould it around the egg, ensuring that the joint is hidden so that the sausage meat won't separate when it's being cooked. Wrap all 12 eggs and put aside.
Put 2 beaten hen's eggs, flour and breadcrumbs into 3 separate bowls. Now it's time to get messy. Put one of the eggs and sausagemeat balls into the beaten egg, then into the flour, then back to the egg before finally finishing in the breadcrumbs. Repeat for the other 11 balls 🙂 The balls should now be totally coated in breadcrumbs ready for cooking.

Bring a saucepan of oil to the right temperature. The oil should be sufficient to almost cover the top of the scotch egg when it's put in the pan – I use a smallish pan that I will be able to comfortably fit 4 scotch eggs into for cooking – test that the oil is up to temperature by dropping in a little bit of bread to see if it cooks. If there is no bubbling then it's not hot enough. If it goes brown really quickly, it's too hot. It should bubble and go golden brown in a couple of minutes.
Slowly drop 4 of the scotch eggs into the pan – the oil should be almost to the top of the egg. Leave the scotch eggs in the oil for about 10 minutes slowly turning them. When the breadcrumbs are golden brown, take them out and put them on some kitchen paper to drain.
Leave to cool and then enjoy, but if you can't wait they are even better still hot 🙂 Cut them in half and see the yolk ooze out of the eggs.
If you want the yolk to be hard in the scotch eggs, cook for a bit longer…. but try these with the runny yolks as they are fab!