Well, phooey. We were put in a jolly cosy corner of Texture, the kinda-Scandinavian restaurant on Bond Street, but that also meant it was really quite dark and none of the photos I took turned out gorgeous. What can you do? I doubt they'd have appreciated me whipping out a huge DSLR at table.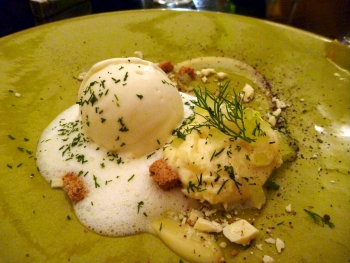 This picture of my pudding is rubbish, but it's the best I've got. You'll have to trust me, this dish was the high point of the meal. Okay, it came after two bottles of wine and a sticky but that was shared between four so I think I could still appreciate a good dish.
By happy chance we bumped into chef Agnar Sverrisson as we were leaving, so I could tell him how much I enjoyed my final course. Dessert is very seldom the high point of a meal for me so I was glad to pay a compliment. To deconstruct that yummy photo, my dessert here was a white chocolate trio of mousse, ice cream and foam, with the addition of finely chopped dill and tiny dice of translucent cucumber. These savoury touches lifted the dish right up among the clouds. Mmm.
That's what you can look forward to at Texture. Some sense of a Scandanavian influence, some highly polished cooking, and inventive elements that knock some of the dishes off the predictable track and make them worthy of comment and memory. I'll remember that pud for a long time. By contrast I can't remember anything I ate on my one visit to Le Gavroche; it was just an evening of beautifully cooked but entirely predictable fine French food.
The bread that started our meal was earthy and brown with gnarly burnt edges, a promising beginning. After a nifty amuse bouche my starter was a platter of three beetroots. This was a dish for the true beetroot aficionado, there wasn't much else on the plate to hide behind, but since I am that aficionado it was good. Maureen's crab salad bathed in gazpacho was a delight, lifted from merely yummy by the clear-as-a-bell taste of lemongrass in the crab. All our main courses were strong, though with less obvious daring. My pig three ways consisted of a nice dense loin, some unctuous belly and rich cheek. The cabbage accompaniment was obvious and perfect, the addition of quince was bound to win my heart. Being picky, the quince purée was a little sharp and had lost the perfume which is the essence of quince. I can't fault the attempt, and to be honest I have never ever found a chef who can keep the true bouquet of a quince once it's cooked. The best option is probably to go all Blumenthal and simply provide a spritzer of quince-water to spray in the air while eating your pork.
Dessert was a hit, as I've said. I think we agreed on this right around the table, although I think I probably had the very best. The whole evening was relaxed and enjoyable, the service being friendly and personable while the ambience is a good example of grown-up contemporary London dining – sleek furnishings and cosy dark browns and smoky greys. You are paying central London + Michelin star prices, but certainly not overpriced for the quality; with a bottle of champagne and a bottle of excellent Riesling from their excellent and idiosyncratic wine list (nine different Madeiras, I couldn't resist a 33 year old one with my pudding) we paid around £120 per head for our table of four.
This is certainly my favourite meal since returning from our travels, and a restaurant I'll be actively looking for excuses to take people to.