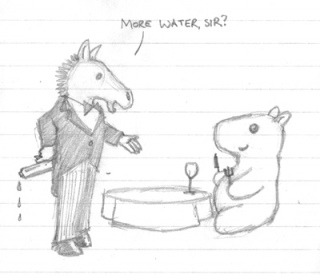 The Pony and Trap
came as a bit of a surprise when we bundled in out of the rainy car park this evening. I'm used to Michelin-starred pubs being of a particular style. Still pubs, sure, but very much the kind of public house where the squire and the landlord might meet up for a drink and a roast while discussing the Enclosures Act. The Pony and Trap is much more the kind of pub where the farmer and the farrier might come to discuss the damned (beggin' yer pardon) landlord. We felt cosy.
Bread and olives were good. My starter was a quail leg on celeriac puree with crispy bacon, pear and chicory. The quail was very nicely cooked, but the presentation of the dish was at odds with what were quite rustic elements; bits of pear, bits of chicory. Maureen's starter was devilled duck liver and heart, and it was exactly that, on a good slice of sourdough toast. Nice and fiery, and no attempt to look anything but rustic.
For main I had a big piece of brill, perhaps just over-cooked, on top of confit chicken leg and purple sprouting, with a brown shrimp butter. I definitely applaud the seasonal sensibility of the dish; it's hard to get a fish dish feeling properly autumnal. But overall nothing leapt out at me about it, nothing wowed me in the cooking or the plating. Maureen's dish was pork two ways: successful and unsuccessful. The success was a marinated fillet, which was dense and pink and utterly chewsome. The unsuccessful was a pressed pork belly; for both Maureen and me the fat was still too obvious, white and fatty throughout.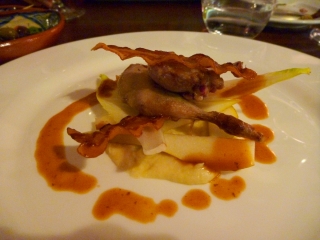 Alongside our mains we got a dish of mixed veg, boiled al dente, and some potatoes. And this perhaps pinpoints the trouble I'm having reviewing The Pony and Trap with an open mind. Because it has a Michelin star, and so I keep catching myself judging it against Michelin standards (or rather, what I'm used to in a Michelin-starred restaurant). Our meal, including 2 glasses of wine and 1 dessert shared between two, was about £60. Surely at that price-point a side dish of boiled veg should be acceptable? Maybe. But I can't help recalling the lovely honey-roast carrots and creamy cauliflower cheese we had with our £10 roast at Cavendish Cooks the other day. Or the three course lunch with amuse bouche and pre-dessert at The Crown, Whitebrook which was elegant and accomplished throughout and barely £5 per head more.
Chef Josh Eggleton sets out his stall as a 100% focus on local and quality produce, which is worthy (though hardly original). And if you live near Chew Magna or are holidaying in the Mendips then you'll certainly appreciate having the Pony and Trap as a local. But while nothing was bad, none of our plates were exceptional, none of them opened our eyes to anything new, and none are likely to stick in the memory in years to come.
I guess Josh might see a few more reviews like this, caused more by the accolade of the Michelin star and people's expectations of what that means, rather than by any fault in his chosen style of cooking. Fact is I've had plates as good and better in other dining pubs that haven't had a sniff at such a high accolade yet. The Michelin man has left me confused again. I can only assume he was seduced by the sheer pubby-ness of it all – I can see him using the words "authentic" and "honest" abundantly in his review.