I like Indian masala chai. A lot. Maureen once posed the following question: if you could only drink coffee or only drink chai forever more, which would you choose? For me the answer is masala chai. It is much more refreshing in the throat and exciting on the tastebuds.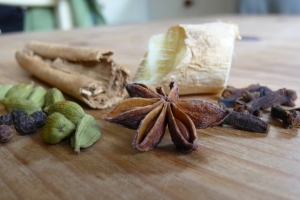 But I do need to be clear about what we're discussing here. If you've ever ordered a chai drink in a coffee shop, or bought a box of chai teabags, you are not even remotely close to having a proper cup of masala chai. Even if you find a place that says it does "authentic masala chai" you've probably only got a 50/50 chance of a decent cup. I 'splain…
The first thing that often goes wrong is feebleness of spice. Look at the recipe below for what goes into brewing two small cups of chai. Now, can you fit all that into a teabag? Second problem is sweetness. I don't have my ordinary builder's tea sweet, but masala chai has to be properly sweet. The tea and the spice should be too strong to be enjoyed unsweetened. Third problem is the milk, which has to be properly cooked. I'm no chemist, but there's a big difference between milk that has been simmering for ten minutes and milk straight from the carton. So those are the three essentials of masala chai, and it is ridiculously hard to get here.
If you want to try proper masala chai you really have only three options: (1) find one of the handful of places in England that brew a proper cup, (2) go to India and happily drown yourself in endless little cups of the real thing, (3) make some yourself.
I can help you with the last option. Whether you end up loving it or hating it, this is the right stuff.
Masala chai (makes 2 cups, not mugs)
2 cups water
1 cup condensed milk
1 inch piece fresh ginger
5 green cardamom pods
6 black peppercorns
1 inch piece of cinnamon
5 cloves
1 star anise
1 tbsp black tea
Put all the ingredients in a saucepan
Bring to the boil and bubble on a medium-low heat for 10-15 minutes
WATCH OUT! IT'S GOING TO BOIL OVER!
Phew! Glad you caught that. Cook for up to 15 minutes, or basically until you've boiled off about a third of the volume
Strain the tea into two cups. Drink and enjoy!
Now, this is a pretty strongly spiced chai I've made here. It's also seriously sweet. Love it. But you can reduce any or all of the spices to reduce the strength. Likewise the tea. You can also swap the condensed milk for the same quantity of ordinary milk plus four teaspoons of sugar – that will be less insanely sweet.
But what about chai souffle?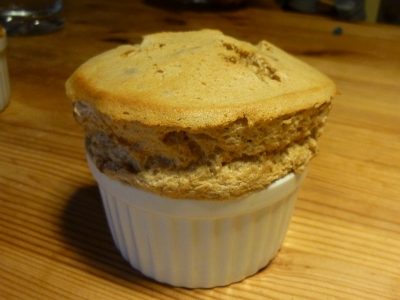 Masala chai souffle (makes 4)
3 large egg whites
pinch cream of tartar
1 dessertspoon caster sugar
2 large egg yolks
25g caster sugar
5g plain flour
1 level tsp cornflour
200ml chai
Make chai according to the recipe above, but after straining it simmer for another 10 mins to reduce and concentrate the flavour. You will only need 200ml of it
In a bowl whisk the egg yolks with the 25g caster sugar until pale, then whisk in the two flours
Whisk in the 200ml chai while it is still quite hot (but it must have cooled for a good 30 seconds)
Pour back into the empty pan and simmer for a minute, whisking continuously – it should suddenly thicken into crème patisserie. Put it in a large bowl to cool
Now whisk the egg whites in a large bowl with the pinch of cream of tartar, until you have stiff peaks
Add a dessertspoon of caster sugar and whisk for another minute until glossy and stiff
Mix a tablespoon of the egg whites into the crème patisserie to loosen it, then add half the rest of the whites and fold them loosely in, then add the remainder of the whites and fold in
Fill four buttered ramekins (five if there's enough) and bake in the oven at 170C for 12-15 minutes
Ta-da!
This masala chai creme patisserie would also make an awesome filling for choux buns or profiteroles.