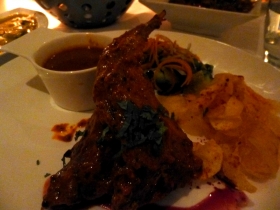 It's impressive to see a menu that includes partridge, quail, pheasant, grouse, venison
and
pigeon. Now that's what I call seasonal goodies. It's even more impressive to see them all on the menu of an Indian restaurant.
I can completely recommend The Painted Heron on the weight of one dish alone: my main course of tandoori grouse with a curry gravy was basically perfect. Perfect gamey bird, perfect hot and sour curry, perfect scorchy tandoor flavour.
The Painted Heron isn't a place likely to get much passing trade. Sat on the Chelsea Embankment with the nearest anything at least five minutes walk away, they've survived and thrived for many years through the excellent cooking and inventive menu. Surely one of the earliest "progressive Indian" restaurants in the country? I admit, I'm no historian. The dining room is smart and unpretentious, the service good.
My starter of crispy fried quail with a pair of sauces was good. Suitably tart mango sauce, suitably fiery chilli. Unctuous quail bits go nicely under crispy batter. Around the table there was some tasty duck liver soured with tamarind and fragrant curry leaves, some competent soft-shell crab and a pheasant tikka that was pronounced good.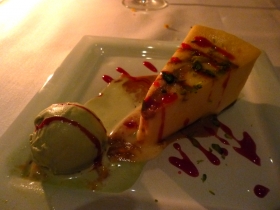 As well as the epic grouse, mains included a more traditional but very good lamb neck rogan josh and a zingy Southern Indian pepper chicken curry. The whole meal was stuffed with wave after wave of spice, as a great Indian meal should be. I can only think of a couple of other occasions where I've had such a satisfying mouthful of crackling energy by the end of dinner. Aficionados will know I'm not talking about pure chilli heat, this is much more complex and pleasant.
Desserts were probably bound to be a slight come-down. There was a good blackcurrant sorbet and a good mango kulfi across the table. I pushed the boat out and chose a "milk jam cheesecake", but this turned out to be a rather solid baked cheesecake drizzled with a sauce reminiscent (not unpleasantly) of jammy dodger filling.
We rounded off the meal with masala chai, as is traditional. Good, but not spicy or sticky enough for me. That said, we had our best Indian meal for a while at The Painted Heron and would go back. The wine list is pleasantly long and diverse. Price is about right; around £35 for three courses without drinks. I suggest you give them a try!