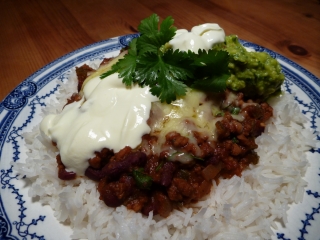 This is one of my absolute staples, a really good chilli that is full of deep flavour. It's also one of those great fridge-is-empty meals because there's nothing in the ingredients list that shouldn't always be hanging around the kitchen somewhere.
Now, this recipe does use vegemince. That's because I think the taste and texture work great, and I don't have to bother going out and buying beef mince. If your chilli must be con carne, just brown the same amount of beef mince in a pan at the outset and then add it back into the chilli when I add in the vegemince. Or take my advice and keep vegemince in the freezer!
Serves 4, and I'd grade this "pretty hot"
1 stick celery, chopped small
1 large onion, chopped
3 cloves garlic, chopped fine
2 tsp coriander seeds
2 tsp cumin seeds
1 tsp cinnamon powder
1 tsp dried thyme
1 tin chopped tomatoes
1 tbsp tomato puree
1 tbsp worcester sauce
1 habanero chilli, finely chopped
1 tsp cayenne pepper
1 tin kidney beans, drained
1 bottle Mexican lager (optional)
½ bag vegemince
½ pint beef stock (or veg stock if you want a vegetarian chilli)
Wow, that's a long ingredient list. It's really simple, honest…
Dry-fry the coriander and cumin seeds together in a big saucepan, then grind in a pestle
Put a good glug of olive oil in the pan and start frying the celery and onion
Once they're going golden, add half the ground spices, the thyme, the garlic and the cayenne
Just fry for 30 seconds to get the flavours going then pour in the chopped tomatoes
Now add the chilli, the tomato puree, the worcester sauce, cinnamon, the stock, and the drained kidney beans. If you're using the beer, add half the bottle now and a bit less stock
Leave the whole thing simmering for an hour
Add the vegemince, stir, check the seasoning and then leave it to simmer for another hour
See? That wasn't so hard. If you want the chilli to taste really good, cook it the day before and then reheat it on the day you want to eat. You can also use any kind of chillies, dried, fresh or pickled. And it goes without saying that you'll need to experiment to find your preferred level of heat. Serve on top of plain boiled white rice, with a dollop of guacamole and a dollop of soured cream. I often melt some cheddar on top of mine too. If you can find pickled jalapenos, a few slices sprinkled on top is also great.
I'd better get the ultimate guacamole recipe up soon!