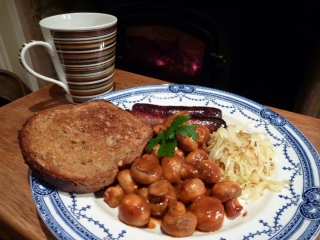 Of course I'd rather be devilling kidneys. I love a plate of devilled kidneys with some nice buttered toast, it makes me feel like Bertie Wooster. But I got a huge box of mushrooms at Ludlow market this morning for £3.50 and so the crystal ball is showing a number of mushroom suppers in the immediate future. And if you happen to be vegetarian or just fussy 'bout offal then mushrooms make a perfectly good kidney replacement. Hm. Re-reading that sentence, I hope the NHS doesn't pick up this blog.
Serves 2 as a light supper
2 good handfuls of mushrooms or 4-5 lamb's kidneys, quartered
knob of butter
2 tsp Worcester sauce
2 tsp tomato puree
2 tsp lemon juice
1 tsp English mustard powder
pinch cayenne pepper
4 tbsp chicken stock (or veg stock)
glug of port, maybe 3 tbsp or so
Mix everything except the mushrooms and port in a bowl
Fry the mushrooms in a frying pan until they're starting to release juices
Tip on the dressing and cook the mushrooms in it for a couple of minutes
Lift out the mushrooms and leave them aside in a bowl
Pour the port in the pan and reduce the sauce for a few minutes
Add the mushrooms back in, mix for a minute, then serve with buttered toast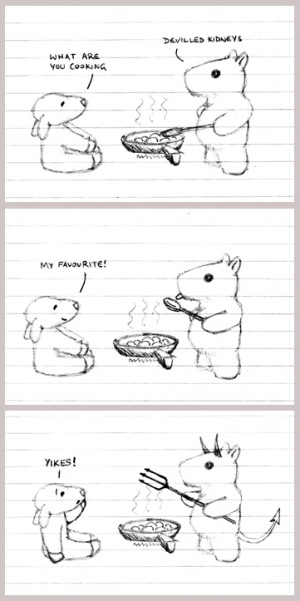 The best mushrooms to get for this are whole small button mushrooms, but bigger mushrooms will do chopped to an appropriate size. To fry mushrooms effectively, get the pan
very hot
first, put in the butter or oil, then the mushrooms. Fry them very hot for a minute then turn the heat down to cook them through. In this way they get some nice golden brown colour before their juices come out and turn the frying into a stewing.
The idea with the stock and the port is to end up with a thick sauce that is just enough to coat the mushrooms and leave a little dribble on the plate for wiping up with toast. You don't want a watery gravy, and you don't want it to dry up. Options if your cupboard has gaps: you can use a splash of Tabasco or a pinch of hot paprika in place of cayenne, and try lime instead of lemon.