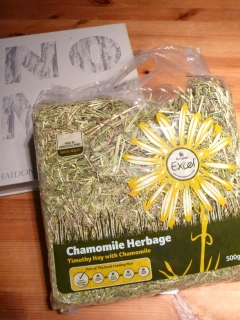 The latest bit of experimentation inspired by our astonishing
meal at Noma
is hay smoking. The principle is fairly simple: put some hay into a big casserole, put some foil in with your foodstuff on top, cover with the lid and get it on a high heat for 5-10 minutes. This will get the hay burning and smoking, after which you can turn the heat down or off and leave the food in as long as you think it wants.
Waitrose aren't doing culinary hay yet (though it's surely only a matter of time) so I had to visit a pet shop and steal the hay from the mouths of poor guinea pigs and chinchillas. They had a bewildering variety on offer. No, really, at least a half-dozen different hays. I plumped for "Timothy Hay with Chamomile" because I hoped the warm scent of the chamomile might carry into the food. It doesn't, but it does smell nice.
So now I've smoked some tea bags, some cheddar, some potatoes and some garlic. What, you expected me to start experimenting with a side of salmon or a chunk of best fillet?
The potatoes and garlic were smoked for thirty minutes with the heat still going on low, then left for twenty minutes before removing. Both turned out brilliantly, the hay giving a really strong taste of sun-scorched meadows and reminded me of playing around in a barn as a kid. The garlic was ten times more awesome and smoky than any smoked garlic bulbs I've bought at farmer's markets before.
For the cheese and tea bags I tried turning the heat off as soon as the hay was smoking, but it was still a little too hot in the casserole and twenty minutes later the cheddar came out as a lump of rather deliciously smoky goo. I think next time I'm going to have to try heating the hay until it is smoking and then tipping it quickly into another (cold) pan and putting the cheese on top. The tea bags are good, though again it turned out powerful and making a pot with one smoked bag to one normal bag is giving me a better brew.
How about a few tips for anyone thinking of smoking with hay themselves? From my own experience…
The burnt hay will stain the inside of your casserole. If this bothers you, line it with foil first. Personally I think it adds character
Your kitchen, possibly your whole house, will smell pleasantly of burnt hay for the rest of the day. Emphasis on 'pleasantly' and I'm afraid there's no getting around it. Maybe don't have washing drying on radiators while smoking with hay
Once you've turned the heat off, leave the pan to cool for twenty minutes before lifting the lid. Otherwise smoke will ensue and you can extend that 'rest of the day' to 'two days'
Don't assume all foods take the same time to smoke, the cheddar was way too strong despite having half the time of the potatoes and with less heat
Oddly, potatoes that have been cooked in smoke for forty minutes actually take longer to boil than ordinary potatoes – make sure you allow another five or ten minutes
And so for supper we had skate wing with a shallot and caper butter, cubed butternut squash pan-fried with smoked garlic, asparagus and smoked mashed potatoes. Delicious. I can't emphasise enough how often I'm going to be doing hay-smoked mashed potatoes and hay-smoked garlic from now on!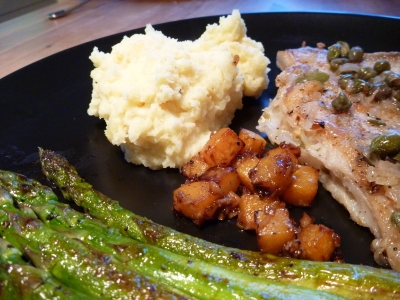 Hay-smoked mashed potatoes
4 potatoes for mashing
3 handfuls hay
3 tbsp milk
50g butter
Salt & black pepper
Put the hay in a layer in the bottom of a big casserole, put some foil on top and then put four scrubbed potatoes on the foil
Pop the lid on, crank up the hob to max, and wait for 5-10 minutes until you can distinctly smell smoke from the pan (if uncertain like me, quickly lift the lid and check for a waft of smoke)
Turn the heat down and leave the 'taters for 30-40 minutes. Then turn the heat off and leave for another 20 minutes for the smoke to completely finish in the pan
Take out the potatoes, peel them and halve them, then boil for perhaps 20 minutes in salted water – varieties vary, so poke with a knife to find out when they're done right through
Drain them and set aside for 2 minutes with a tea towel over the pan to absorb the steam
Mash the potatoes, then add the milk and butter, season well, and beat with a whisk until really creamy
Now, what next? I need more ideas for things to smoke with my hay (well, the smallest bag the pet shop sold was a kilo). Need to think outside the box, though – chicken, salmon, booooring. Anyone got any suggestions for me?