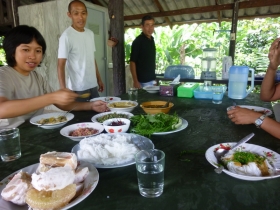 If you haven't been to Thailand, you really should. I recommend spending two weeks exploring north from Bangkok, inland, and then relaxing for two days on a beach at the end before going home. We have such brilliant memories of our eight weeks there, and no more so than a week in the city of Chiang Mai, where we enjoyed the hot northern Thai curry, Khao Soi, as often as we could get it. For whatever reason, it seldom shows up on Thai menus in the UK.
One thing particular to Khao Soi are the condiments: a plate of various things you can add to your bowl as you go along, to your taste. I wish I'd taken a photo, but at our favourite place in Chiang Mai the plate of extras included bunches of about five different herbs, none of which (except the coriander) I recognised. And all of which were uniquely tasty.
So, this Khao Soi recipe isn't watered down, this is the real deal*. It has a bright, aromatic, chilli heat which is making my mouth water while I type. It really is a dish for those who enjoy some serious spice, but if you want to try a less ferocious one then go down to 1 dried chilli and a half tsp of curry powder.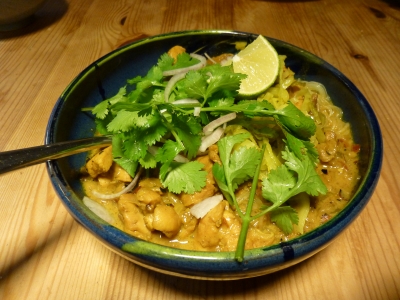 Khao Soi, Northern Thai curry soup (serves 2)
1 tbsp coriander seed
1 inch piece fresh ginger
2 black cardamom pods
3 big dried chillies
3 shallots
2 tsp turmeric
1 tsp curry powder
1 tsp salt
250ml coconut milk
300ml water
2-3 chicken thighs
1 lime
1-2 shallots
pack mustard greens
bunch coriander leaves
Dry-fry the coriander seed, chopped ginger, cardamom seeds (discard pod), crumbled chillies and chopped shallots together in a pan for a couple of minutes
Wail like a baby as the chilli fumes melt your eyeballs and lacerate your throat. Or make sure you leave plenty of windows open and the extractor on full blast!
Put into a pestle along with turmeric, curry powder and salt then pound the whole lot until you end up with a thick paste. This will take some time!
Pour 150ml coconut milk into a wok or large pan and bring to the boil. Once it is bubbling away, add all the curry paste and stir in. Leave this on a medium heat, stirring regularly, for perhaps 10 minutes or until it has reduced a lot and there is a sheen of oil visible
Add the chicken, cut up as you like, and cook in the paste for 5 minutes
Add another 100ml coconut milk along with 300ml water and leave this simmering for a good 15 minutes. Add a splash of fish sauce, then taste for seasoning and add more fish sauce as necessary
Chop a couple of segments of lime. Pull off a good handful of coriander leaves. Chop up some pickled mustard greens (look in your nearest oriental supermarket). Chop up a shallot or two. These are your condiments, leave them on a plate to be added to the khao soi as you like
Plunge enough noodles for two into boiling water for 3-5 minutes, then drain them and divide into two bowls. Add the chicken and pour on the khao soi curry
Enjoy!
The paste is a hassle to make, so perhaps double the ingredients and make enough for two meals; it will keep happily for a week or two in the fridge, or could be frozen.
* – okay, it's not quite the real deal. There are a few unusual herbs and spices from Asia that I have still never found in UK shops, so rather than torture you with demands for fresh turmeric root I've left it at stuff you ought to get easily enough. The black cardamom and mustard greens are probably still only from specialist Asian food shops, however.