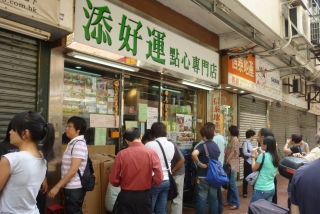 My most unusual Michelin-starred meal must be Tim Ho Wan, a tiny restaurant tucked away in a backwater neighbourhood of Kowloon, Hong Kong. They seated about thirty, shoulder to shoulder in a room no bigger than my lounge, with décor to remind you of your local Chinese takeaway several thousand miles away. We had a feast of very good dim sum, were out the door in just over an hour, and the meal was about £12 for two including bottomless jasmine tea.
What the heck? Where's my amuse bouche?
It helps if you actually take some time to read how Michelin define their own star ratings. One star indicates a "very good cuisine in its category", a two-star ranking represents "excellent cuisine, worth a detour," and three stars are awarded to restaurants offering "exceptional cuisine, worth a special journey". There's nothing here about the whiteness of the linen, the number of waiters hovering per diner, or whether your napkin will be folded neatly on the table for you if you disappear to the loo. Michelin are steadfast about this: stars are given for the cooking; quality, consistency, inventiveness, ingredients, value for money. Yes, value for money. That is, in theory at least, how a cupboard-sized dim sum joint in Kowloon can score a Michelin star.
Which might also explain how the Pony & Trap in rural Somerset has scored a Michelin star, or the Hand & Flowers has become the first pub in Britain with two Michelin stars. This acclamation seems to have particularly divided people. As one irate Frenchman pointed out rather sarcastically (check his comment below this blog for the full rant), the toilets even have "lovely plastic flowers…..a must have in a 2 Michelin Star rated place"! He's clearly missing the point. It's all about the food, right?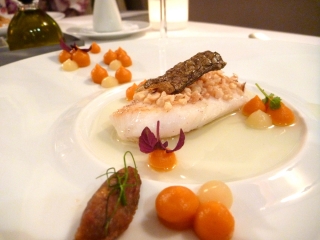 Or is it? Why
do
people consistently associate Michelin stars with a particular formula of elegant super-processed cuisine, silver service and serene white linen dining rooms (with fresh flowers in the toilet, dammit)? Well, presumably because for a very long time that was about the only sort of establishment that delivered the kind of food to merit a Michelin star.
So should we not applaud the fact that Michelin is trying to discard this twentieth century image and award stars quite deliberately (it seems to me) to dining establishments that focus on delivering quality cooking at a specific price-point rather than a blinkered fine dining formula?
I'm not going to applaud it. Let me set out my argument.
At the end of the day, restaurants are not chasing Michelin stars. No. They're chasing money. Restaurants are businesses. The Michelin star, with its venerable history in the echelons of fine dining, attracts a moneyed clientèle willing to pay handsomely for a particular dining experience. This experience includes being looked after brilliantly, sitting in a refined dining space, eating food that has obviously had immense care and attention lavished on it, and splashing out on a bottle of vintage champagne if the occasion warrants. For most, this is special occasion dining; a wedding anniversary, a family birthday, or a lavish weekend break. It's the restaurant that chooses to combine silver service and white linen with the Michelin-style food, because that's what their target demographic wants and expects. History tells them so.
The Michelin star may be awarded for excellence in cooking, but it is used by people as a way of quickly identifying a complete special occasion; food, service and ambience.
To my mind, Michelin are just muddying the waters and confusing the punters by giving out stars to jolly good pubs or tasty dim sum joints. They should accept the position that the history of fine dining has put them in and continue to use the three Michelin stars to identify the highest levels of fine dining. And no, that doesn't just mean French haute cuisine. It should be obvious today that anything from Japanese to Nordic inspired cooking can deliver a meal fit for a fine dining splurge. For delicious food in a different settings or price point, why not expand and emphasise the Bib Gourmand rosette, let's say to three levels, in order to reward and acclaim brilliance elsewhere in the realms of eating out?
Referring again back to their own definitions: one star indicates a "very good cuisine in its category", a two-star ranking represents "excellent cuisine, worth a detour," and three stars are awarded to restaurants offering "exceptional cuisine, worth a special journey". These stars should shine above the doors of destination restaurants. People plan entire weekend breaks around a trip to Le Manoir or The Kitchin. I don't care how brilliant the burgers at MEATLiquor, or how splendid the simple cooking at The Green Cafe in Ludlow, no-one is going to build a weekend break around a visit there.
Michelin stars have a place. Had a place. Michelin is in danger of terminally confusing their punters if they pay too much attention to people who moan about the "Michelin formula" and so try to spread their three star system across the entire gamut of eating establishments. Keep the stars focussed. Keep them for those special occasion meals where you can ooh and aah over the cleverness of the amuses bouche, tinkle your myriad of silvered cutlery along the line of various wine glasses and have your napkin neatly folded by a team of dashing waiters when you pop to the loo.
Keep the stars where they belong. I'll use them if I want a refined dining experience. I'll happily look elsewhere for more down-to-earth but equally delicious food.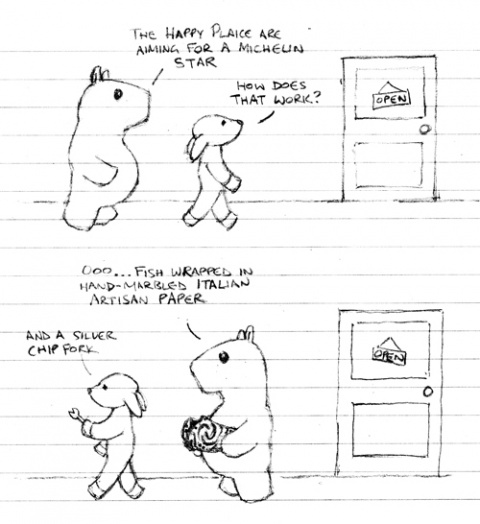 Postscript! Of course, it may simply be that Michelin is an imperfect, biased and disjointed organisation with overworked staff and inexact standards that regularly gets things wrong but has good PR. And so it may also be the case that the Hand & Flowers isn't even worth two stars for its food, leaving aside the plasticity of it's bathroom bouquet. I couldn't tell you, I last ate there before they won a single star and had a great gastropub meal. Certainly the dim sum at Tim Ho Wan was no better than those at the splendid but unawarded Maxim's Palace on the other side of Victoria Harbour. And I was personally disgusted this year that La Becasse lost its Michelin star for no reason I can see. If nothing else, the red guide always gives restaurant lovers something to talk about!