I like joining in on round-ups, it means I have to invent something new now and again. Especially for We Should Cocoa, the chocolate round-up because I don't normally cook or make anything with chocolate. My interaction with chocolate is typically: (1) buy chocolate, (2) put it down somewhere visible and pass it several times to show willpower, (3) eat chocolate.
In honour of the miserable weather, the Christmas season, and the crappy cups of hot chocolate that we usually get when ordered at a cafe, I have created Mulled Chocolate. And in honour of the delicious homemade raspberry marshmallows our friend Vanessa gave us recently, I've added orange marshmallows to the chocolate.
Because this seemed lightweight for a recipe, I've also baked some chocolate and orange cookies, to be enjoyed with the hot chocolate or whenever. Merry Christmas!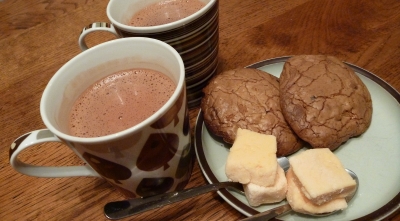 Mulled chocolate (2 mugs)
2 mugs of milk
100g Montezuma's drinking chocolate
½ cinnamon stick
2 cardamom pods, cracked
2 star anise
1 piece ginger in syrup
1 tiny piece of nutmeg
1 dessert spoon rum
Put the milk in a pan, add all the spices and rum, then heat to a simmer before taking it off the heat and allowing everything to infuse for 10-15 minutes. Now strain out the whole spices, return to the heat, then add the chocolate. Bring it to a simmer again and whisk lightly for a few minutes until the chocolate is thoroughly melted in. The whisking is important: your chocolate will be glossier and more delicious.
Of course you don't have to use Montezuma's finest. It's a 54% chocolate, so you can use a stronger dark chocolate if you want your drink really gnarly, or a milkier chocolate if you like it milky. And of course the rum is entirely optional; if you don't want any booze in, it still tastes great. Alternatively if you want a really wicked treat then double the rum! Finally, we don't like our chocolate milky and so I actually used 50/50 milk and water instead of the traditional all-milk drink.
Orange marshmallows (loads!)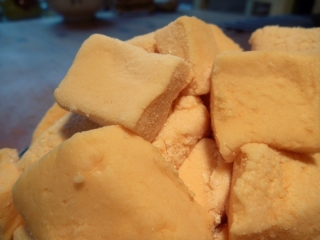 To get an orange flavour, I took the peel of 2 oranges (make sure you don't get any white pith) and added it to the juice of one of them. Then I simmered this down until I had about 50ml of juice after straining the peel out. I added a tablespoon of orange-flavoured spirit (Triple Sec or Grand Marnier). I then used
this marshmallow recipe
but when adding the bloomed gelatine sheets to the sugar I added this juice
instead of
the water the gelatine had soaked in. At the whisking-into-egg-whites stage I added a small teaspoon of orange blossom essence and a half-teaspoon of red and yellow food colouring, instead of vanilla essence.
Choc and orange cookies (12 or so)
So many recipes on the internet, I didn't know where to start. But then I spotted this one, and the use of nutty brown butter seemed different and very promising. Thanks to Delicious Days for this recipe. I used only two-thirds of the amounts, because there's only two of us after all, so I've laid out the recipe in full here:
100g butter
70g dark chocolate
30g candied orange peel
50g dark Muscovado sugar
50g soft brown sugar
30 g granulated sugar
1 large egg
150 g plain flour
½ tsp baking soda
Maldon sea salt
Melt the butter in a small pan and cook it slowly over a medium heat. You want it to brown and give off a nutty smell, but be careful as it burns easily and will then be bitter and rubbish. Pour into a small bowl as soon as it's right, so it doesn't continue cooking in the pan.
Leave the butter to cool for 30 minutes, meanwhile chop the chocolate and peel into little pieces
Preheat the oven to 175C and line two baking sheets with baking paper.
Beat the sugars and egg in a bowl for several minutes until creamy and most of the sugar has dissolved.
Pour in the butter (leave any dark dregs in the bottom) and beat for a couple more minutes.
Sift in the flour, baking soda and a pinch of salt, then mix into a dough. Add the chocolate and orange peel, mix to distribute them. Don't over-mix here.
Scoop dollops of dough onto the baking sheets, leaving space to spread between each. Sprinkle a few salt crystals over each one and stick them in the oven for 12-15 minutes. They will be very soft when you take them out, but become a little firmer once they cool. Should still be chewy in the middle though!
Enjoy!