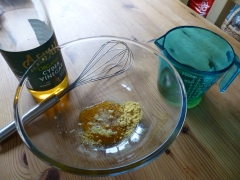 It's easy to drift away from fresh fish as a supper item if you're feeling a bit budget-constrained. You can get an awful lot of bacon for the price of a sea bass fillet! But if you poke around your fishmonger's counter a bit (not literally, your fishmonger will become grumpy if you touch his pollocks) you might spot some cheaper options. Cod cheeks and cod flaps are good, but even better is a much overlooked fish: coley.
My mum used to give our dogs coley in their dinner as a treat once a week. Not kidding, no more than a couple of decades ago coley was only sold as pet food. Reason? It has a very genuine fishy smell. Now, I know Jamie, Hugh, Rick and co will have taught you that pongy fish is gone-off fish, and in many cases they're right. But there are a few fish out there who have what you might call natural body odour. Coley is one. Don't be put off.
What it wants is some robust companions, then it is simply a lovely, moist, flaky, cheap (don't forget cheap) piece of pan-fried fish. Red peppers, chillies and fresh mayo punched up with the makings of tartare sauce, for instance.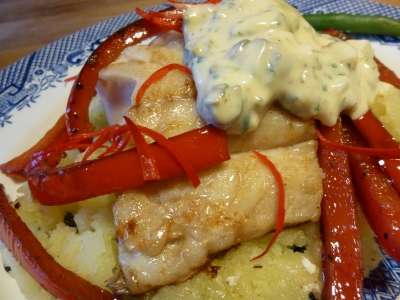 Pan-fried coley and mayo (serves two)
2 pieces coley fillet (200g each)
1 red pepper
1 fresh red chilli
2 eggs*
150 ml light olive oil*
1/2 tsp salt*
black pepper
1 tsp mustard powder*
2 tsp cider vinegar*
1 garlic clove, minced fine
1 tsp lemon juice
1 tsp capers
2 cornichons
1 handful parsley leaves
* – or 200ml mayonnaise from a jar!
First we make mayonnaise. Or to save 15 minutes, scoop some out of a jar into a bowl and skip to step 4 (but add the minced garlic too)!
Put the egg yolks in a clean bowl. Fry the whites in a drop of olive oil and reserve them. Add the mustard, garlic, salt and black pepper to the bowl. Now begin whisking the yolks and add the oil a drop at a time. Really, one drop at a time. I've curdled mayonnaise twice by rushing it, you will too. I usually find a way to sit with the bowl trapped between my legs so I can whisk with one hand and drip with the other.
After a time, could be many drips, the mixture will thicken quite distinctly. Go with drips a little longer, but then you can add the rest of the oil in a steady dribble. Once the mayo has thickened, it won't curdle. See? Wasn't so bad. Add the cider vinegar too, which will loosen it up a bit.
Now fry the egg whites, let them cool, then chop up the egg whites, capers, cornichons, parsley and mix them all into the mayonnaise with the lemon juice. Add a bit more lemon juice if necessary to get a consistency you like, and check seasoning.
Slice the pepper and fry in a bit of olive oil, getting some nice blackening on the skin. Optionally: add a splash of red wine and sizzle it down to nothing, this will just improve the the peppers.
Boil a couple of old potatoes and then roughly crush them with some butter, salt and black pepper – roughly crushed is much better with mayonnaise than a smooth mash. Alternatively, splash out on some Jersey Royals and just boil them.
Get a pan really hot, then add a knob of butter and splash of olive oil. Put the coley in skin up for a couple of minutes, then turn it over and cook skin down until just done. Coley is usually a thick fillet, so you should be able to look at the side of the fillet to see that it has all gone opaque (white instead of pale grey)
Put the fish on the potatoes, scatter pepper slices, scatter the very finely sliced chilli, then add a huge dollop of mayonnaise and enjoy!
Muchos gracias to Delia for the basic mayonnaise technique, and for her superb tip: if you are a hasty idiot and curdle your mayo by adding the oil too quick, don't despair. Put a fresh egg yolk in a clean bowl and start dripping your curdled mixture into it, one drop at a time – if you are more patient this time, it will work out fine and you can carry on with the rest of the oil.