Restaurants do need to take care of the detail on their menus. You might shrug your shoulders and say "so what if we used the wrong term for a dish, or missed out a comma, that doesn't actually affect the meal." I would say, and this is a philosophy I apply to everything in life, that disappointed expectations are much worse than no expectations at all.
When I see that your sticky toffee pudding is offered with "custard ice cream or cream" I get a little excited at the thought of custard ice cream. When you point out that it is really "custard, ice cream or cream" then a tiny hope dies inside me. The sticky toffee pudding might be half-decent, but it's no longer special (as an aside: banana ice cream, best ever partner to sticky toffee pudding).


When I see "duck liver parfait and onion parfait" on the menu my metaphorical ears prick up. A duo of parfaits indeed! And I wonder how they've made an onion parfait? When I get a piece of duck liver parfait and a dollop of sticky onion chutney, my grump is definitely on no matter how tasty the onions. I've had (better) duck liver parfait and sticky onion chutney a score of times, I wanted something different.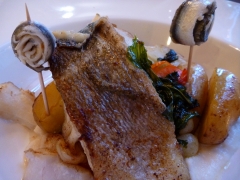 If my dessert is described "with black pepper tuile" and you don't have any, it's worth telling me "we don't have any black pepper tuile, is it okay with plain tuile?" before I order, rather than serving me the dish with the same plain tuile as my partner's pud. Because now my heart has been crushed, and I'm left wishing I'd picked something else.
People choose from menus in different ways. Some decide that they want venison and that's it. Others reject all the stuff they don't like and finally pick the one safe-ish option. And some of us eye up the list for unexpected combinations or interesting accompaniments. The tuile may very well seem like a support act for the strawberry pannacotta, but it just so happens that the black pepper tuile was the most intriguing element on your whole dessert menu.
Hey, I know this is small beer. But it also doesn't take much effort to get right.
Of course, these little crushing disappointments are far more likely when eating abroad, with all the tangles of translation. Pork chops with porcini mushrooms sounded pretty good to me, so I rejected the nice looking seafood and went for it. When I got a thin pork escalope wrapped around measly slices of button mushroom I just gave a resigned sigh and started chewing doggedly through. It certainly wasn't worth an attempt at complaining. This was the Balkans after all, where our friends had found a cheese dish on a multi-lingual menu that was described as "cheddar" in the English section, "brie" in the French translation and "gorgonzola" on the Italian part. If I had asked where the "porcini" were they would no doubt have pointed out the mushrooms and smiled patiently at the crazy foreigner.
But anyway, language barriers aside, please read over your menu twice, and let people know beforehand if an element of their dish isn't available. Ta.