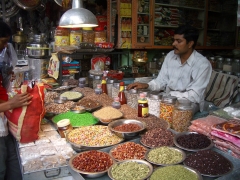 Oooo… lovely. A cup of steaming hot chai, sweet and spicy and milky and deeply reviving. Exactly as you'd get it from a good chai-wallah in Delhi. In fact it takes me straight back to the spice market in Jodhpur, or the book seller in Udaipur. While I got sick to the back teeth with all the hard-sell and hassle on the "Rajasthan circuit" we did a few years ago, there were a handful of genuinely pleasant tradesmen we spent time with; discussing (and purchasing) whole spices, and buying some lovely leather-bound books of handmade paper. In both cases a useful lad was sent out to get cups of chai from one of the nearby wallahs, obviously to help lubricate the relaxed sales process, and that small, hot cup of brew is an indelible part of my memories of India.
Which is why whenever I visit Brighton, I always find myself at Chilli Pickle. Either for lunch, dinner or just a drink. Because they make a magical cup of chai, and the best indication of authenticity I can think of is that it transports me right back to Jodhpur market. I've had chai at some of the more famous nouveau-Indian restaurants in London that don't transport me anywhere.
As you can probably tell, this isn't really a review, it's more a raving recommendation for a great place in Brighton to get Indian food that both hums with authenticity but also delivers neat, original, modern dishes. Chef Alun Sperring has worked at The Cinnamon Club, but rather than replicate the white-linen fine-dining-with-spice here in Brighton he is providing all the same quality and authenticity but in a more colourful and relaxed setting. Closer to the roots.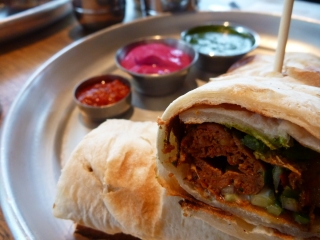 Today we just had lunch, both in the form of roti wraps. Maureen's was an earthy, fiery laal mans made with local Sussex mutton and tempered with an uplifting mint relish and a chilli pickle with lovely burnt flavours. Mine was a venison sheek kebab, buzzing with lots of dark and fruity spices. Along with the mint relish I had an astoundingly pink beetroot raita, which is of course both perfect for venison and also chimes with the vibrancy and colour of Indian cooking.
It happens to also chime nicely with the décor at Chilli Pickle. Bold colours on the walls, simple unvarnished hardwood tables, decorated with huge shelves stacked with Indian cooking vessels and colourful bags of rice. There's a big open kitchen at one end of the restaurant. Contemporary, and Indian, and Brightonian. Their original location in the Lanes was more cosy, but they've filled a much larger space in the new Jubilee Square very well and picked up a Bib Gourmand in the process.
Service is always friendly and helpful. To be honest I can't comment on the wine selection, as I've never looked at it. It's lassi all the way for me when I eat here, either the startlingly spicy and refreshing salt lassi or the thick and oh-so-rosy gulab lassi. Wonder if I can find an excuse for one more trip to Brighton before Christmas?