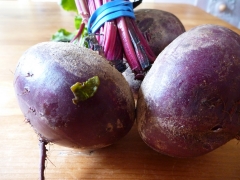 There's definitely a nip in the air this morning. A little frost in the shadows and by the road was a big old toadstool with a puddle of water on its upturned cap that was still frozen. Steamy breath and a hazy sun on the rooftops of Ludlow. I love chillies at any time of year, but when it's cold outside the extra heat is very welcome in almost any dish. Maureen disagrees of course: chillies are vital in every dish at all times of year, and twice on Thursdays.
This month's Sweet Heat Challenge is soup, which is handy because I had all the ingredients needed for a spicy beetroot soup. This stuff is packed with warmth: the warm glow of chilli, the earthy warmth of beetroot, the warm red of roasted pepper, the warm notes of toasted cumin, the cosy warmth of slowly cooked tomatoes, the smokey warmth of paprika. It's like a woolly blanket in a bowl. Which would be horrible. Ugh, bad analogy. Ignore that.
Spicy beetroot soup
This makes enough for 4-6 bowls
2 large beetroots
2 red peppers
1 small onion, chopped roughly
1 stick celery, chopped roughly
2 cloves of garlic, chopped roughly
2 chipotle chillies (smoked dried jalapenos)
½ tsp smoked paprika
2 tsp cumin and coriander seeds mixed
1 tin chopped tomatoes
½ pint vegetable stock
Simmer the beetroots (skin-on) in a pan of boiling water for 30-40 minutes until cooked through – test with a knife.
Meanwhile, halve the peppers and rub with a little olive oil then roast on an oven tray at 160C for 30 minutes or until skin is brown/black in a few places.
Dry-fry the cumin and coriander until toasty and smoking, then grind to a powder.
Begin to gently fry the onion, celery and garlic in a large saucepan just before the peppers and beetroot are finished. Don't colour them at all.
Pop the peppers in a plastic bag and tie it – the steam will loosen the skins, which you can then peel off and roughly chop the pepper.
Drain the beetroots and reserve a pint of the water. Once the beetroot has cooled a little, simply rub the skin off then chop the beetroots roughly.
Now add the peppers and beetroot to the onions, add the paprika, the cumin and coriander, the chillies roughly chopped. Stir, then add the chopped tomatoes, vegetable stock and most of the reserved beetroot water.
Simmer for 30 minutes or so, check seasoning, add more water if needed. Once you are happy, blend the whole lot to a smooth soup.
Serve with a sprinkle of black salt and a swirl of olive oil on top. Soured cream is an even better alternative.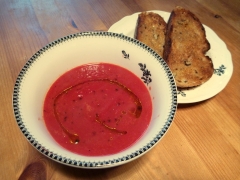 You can make this even better by roasting more of the stuff. For example: roast the garlic, or use smoked garlic, or roast some tomatoes to use instead of the tin of chopped toms, perhaps even roast the beetroots. It all depends what you have the time and inclination for and on this occasion I kept it fairly simple.
As an aside, I also added another dried Asian chilli for some real heat. The result was some serious fire though, which might not be everyone's ticket for a comforting shoup. We like it hot!