Most out-of-towners will usually find themselves somewhere around Piccadilly Circus, Oxford Circus or perhaps Carnaby Street at some point when they travel up to the metropolis. I certainly do. So it would probably be good to know about one of the best places I've ever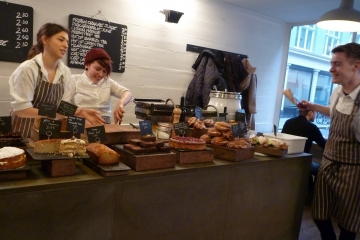 found for brunch, lunch or just afternoon coffee and cake. That would be
Fernandez & Wells
, on Beak Street just below the bottom end of Carnaby Street (they have a handful of other outlets, but this is the one we know and love).
It's a very simple, modern space inside and if you want a sofa to surf on then just forget it – these are perches, for a sustenance break and a quick scan of the papers, nothing more. But what a great sustenance break!
The pleasure begins before anything passes your lips, with the display of food on the counter. No glass barrier here, they have confidence that their punters won't be crass enough to start fingering the sandwiches or pinching the pastries. And in the same way that a face-to-face encounter with a lion on the African savannah is much more exciting than peering at one through the glass of a zoo enclosure, so the treats spread out on the hefty wooden table before you look far more enticing for their freedom.
My sandwich of wafer-thin Spanish pork with deliciously salty manchego was grilled to warm perfection, the bread full of crunch and taste. The rare roast beef in Maureen's sandwich was melting in the mouth. Later we squeezed in gloriously authentic pasteis de nata.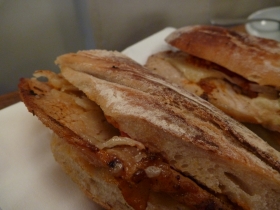 I've been to Lisbon, I know they were right. If I had been more greedy the last huge slice of rose-petal jam Victoria sponge would have been mine. Maureen washed her sandwich down with a generous glass of fresh blood orange juice, while I had a flat white.
I must mention their coffee. First, I must confess to being a very lazy coffee afficienado. I drink lots of coffee, and I only drink good coffee. There's no instant in our house, and I've lost count of the times I've ordered a take-away coffee in a strange town or station and then dumped the whole cup in a bin because I couldn't stomach the filth inside. But! But. I don't know any of the right terminology to use in describing a cup of coffee, I've never been on a tasting course or avidly read books and blogs on the subject. I just know a good cup of coffee when I encounter it, be it flat white or French press.
The coffee at Fernandez & Wells is up in the top five cups I've ever enjoyed, and that's out of an estimated 20,000 cups of coffee in 40 countries. 'Nuff said.
One more thing needs saying. F&W isn't a cheap cafe, the sandwiches are over a fiver. But I don't really care, I'd rather truly enjoy one of their sandwiches with a great cup of coffee than bolt down an adequate but entirely uninteresting number from Pret or Eat with a cup of hey-it's-all-caffeine-anyway brew.