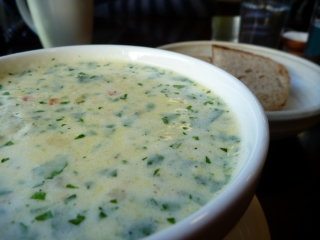 It's terribly inconsiderate of The Green Cafe to close throughout January. Who said they could have a holiday? I want lunch!
I want the best chicken liver pate ever created, with crispy bits of French stick toast and the most fruity and punchy fig chutney to cut the savoury meatiness perfectly. I want a bowl of smoked coley chowder with bacon and mussels, where all the flavours are so perfectly balanced it's like a tightrope walker on a unicycle spinning eight plates blindfolded, in a bowl. Cream, shallots, parsley, bacon and fish have never sung together better. I want melting potato gnocchi with a palate-pleasing rich ragu made with Italian pork and fennel sausage. I want…
Okay, perhaps what I really need is a bit of perspective.
The Green Cafe is a cafe after all, and they serve light lunches and sweet treats from late morning until around about 4:30. They're tucked away down beside the tumbling river Teme, below the quintessential market town of Ludlow. This is a real and deserved use of the word "quintessential" but I'll save Ludlow for another day. The spot by the river is idyllic, and they manage to tuck about 20 covers inside a tiny dining room with another 10 or so outside when it's not as bloody cold as it is now. It can feel a little squished on busy days, when the tables near the door are hobson's choice and not a great choice in inclement weather with people trooping in and out. But hey, it's a cafe.
So you wouldn't come here for a romantic three course dinner. You would come here to have a couple of plates of deceptively simple lunch, all using local ingredients in season and washed down with a thoughtfully organised list of drinks including a few wines. Nothing on the menu runs over £9.00, from memory.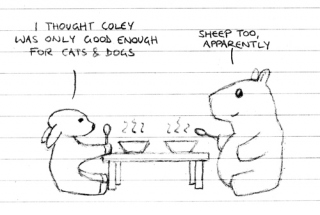 Service is perfect: friendly and warm, nothing is too much trouble. Cakes are good too.
What's with the "deceptively simple" though? Well, everything I've ever enjoyed here has been as perfectly balanced as that chowder, seasoning spot-on and flavours bouncing neatly off one another. Chef Clive Davis has a magic touch, and it's a surprise (and a pleasure) that he chooses to express himself with this, the humble light lunch, rather than following the obvious route for a palate of his calibre into the airy realms of fine dining.
If you've come to Ludlow for a foodie weekend, including a slap-up meal at one of the two renowned restaurants in town, you'd be doing yourself a grave disservice if you didn't squeeze in lunch at The Green Cafe. Hands down my favourite cafe, anywhere. Be warned: you should definitely phone a day ahead to book.