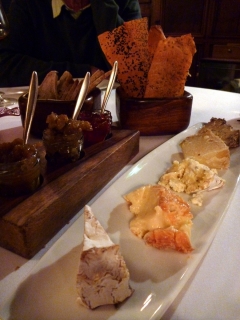 This is the first time I've ever eaten at a restaurant on the very day its Michelin star was taken away. I am pleased to report that everyone front of house behaved impeccably and gave no sign of the disappointment they must all have been feeling, and none of the dishes were over-seasoned with the chef's salty tears of frustration. Indeed, it was a great meal.
I'm gonna have to name-drop horribly here. I've dined at lots of Michelin starred places, and a bunch of them that La Becasse beats hands-down for service, ambience and cooking. Champignon Sauvage, Hand and Flowers and The Stagg at Titley to name three. No disrespect to these places, we enjoyed our dinner at them all, but they aren't as good as La Becasse. Naturally enough we studied our dining experience pretty closely this evening (having been there before, there was no novelty factor and so this was easier to do) and I honestly can't find fault with the service or the food. I guess I'd better get on and review our meal.
La Becasse has a jolly clubby dining room. Few restaurants have the good fortune to be situated in a large medieval townhouse with centuries-old oak panelling on the walls, and they bring this romantic old country sensibility up-to-date with a splendid contemporary red carpet and elegant tableware. Lighting is kept low and unobtrusive. You feel like a contented country squire.
The appetiser was a warming spiced lentil soup poured over tiny cubes of Ticklemore goats cheese and a bead of harissa. It was a good prelude, neatly expressing all of chef Will Holland's themes that would be expanded on through the meal; local produce, inventive combinations and delicious results.
The first starter (yes, we had the six-course gourmet menu) was a carpaccio of pigeon paired nicely with slippery little cubes of mango and a neat stick of chilled foie gras. Lovely though it was, the second starter knocked it easily into touch. Dramatically presented on a square glass plate with a ruby red border, chunky cubes of Ragstone cheese coated in a delicately truffled crumb were herded together with wafers of biteable beetroot, supple raspberries and tiny cubes of balsamic jelly. It looked ravishing and ate even better.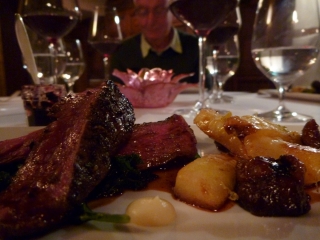 The fish course was a hearty combination of halibut, shredded ox tail and sauerkraut. Each of these elements tried to sing loudest, but the result was a harmonious choir of flavours. I'm saving my breath for the main course. Venison, parsnip, chocolate, lime, chestnuts and parmesan sounds like a challenging edition of Ready, Steady, Cook. In fact it made for a sublime autumnal dish, centred on a meltingly good piece of venison. The chestnuts were glazed with honey and lime, the parsnips roasted with a bit of a parmesan crust, there was a friendly blob of chocolate sauce and our table was also given a little jar of tangy whinberry (or bilberry, blaeberry, hurtberry) relish to share. This is exactly the right way to celebrate local, seasonal produce.
Cheese was an additional course and seeing that we weren't entirely sure how much room we had La Becasse showed themselves to be generous, giving us one cheese course to share between the four of us. There was enough of the five cheeses for each of us to enjoy, plenty of bread and biscuits, some lovely relishes and so it was rather startling to have it appear on the bill as a mere tenner. Universal praise went to the refreshing pre-dessert of lime and ginger jelly with maple parfait and a punchy lift of hickory-smoke foam. Dessert was a deconstructed chocolate and cherry torte with a salt caramel jelly, very moreish but not presented to its best potential.
All in all, a faultless evening and thoroughly enjoyable. Maybe the Michelin people were fussing about the length of the wine list? It certainly isn't an epic tome, but it's long on quality and the sommelier led us to a New Zealand pinot noir with dark cherries and impeccable smoothness to go with the venison. No matter what the fat tyre man says, it is still worth taking a weekend break in Ludlow for a very special meal.