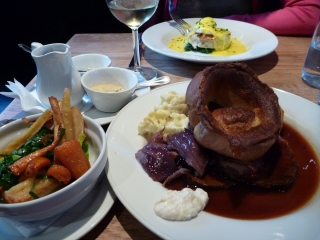 This Sunday lunch was a great antidote to
last Sunday's lunch
. We were in Stratford-upon-Avon for the day but having done no research were picking lunch randomly from the multifarious eateries the town is blessed with.
We didn't pick entirely randomly: Lambs had both Hardens and Michelin stickers on the door, though not a star I should hasten to add. Anyway, here's a quick review.
They've made good use of the old Tudor building, plenty of period charm inside and appropriate décor to keep it contemporary. It's a style I like, though it is so common now as to be cliché. Service was attentive and friendly; they asked me if I'd like my roast beef pink or cooked through, and even asked me whether I wanted my beer cold or at room temperature. That's more than I expect from a price-point of around £14 for a main course!
Maureen went for a smoked haddock fishcake with spinach, poached egg and hollandaise. This was generous in size and essentially looked and tasted exactly as you would want it to. If I'm really being mean, the hollandaise could have been a little tangier. I had the roast beef, beautifully pink in the middle. It was quite a spread, with a puffy yorkshire pudding, slow-roasted shallot, crunchy roast potatoes and cauliflower cheese sharing the plate with the beef, roasted baby carrots and parsnips in a separate bowl with some cabbage, and a condiment plate of horseradish, mustard and extra gravy. The horseradish tasted freshly grated. From the beef right through all the veggies, it was one of the best roasts I've had and a reasonable £13.50.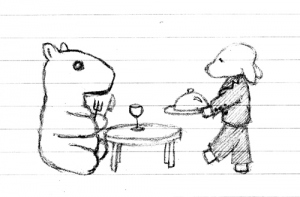 So, if you find yourself looking for a Sunday lunch in Stratford-upon-Avon and are daunted by the enormous spread of pubs and restaurants in the town, several of which will doubtless be crappy pack-in-the-tourist places, I can at least offer you one you should be able to trust.
Multifarious is a big word, and I want to repeat it just to make sure you all spotted me using it back in the first paragraph. Just like many words in this wonderful English language it does have a specific and worthwhile meaning. It means: many and varied. Not just many, but many and varied. Throw it into a conversation near you, today!