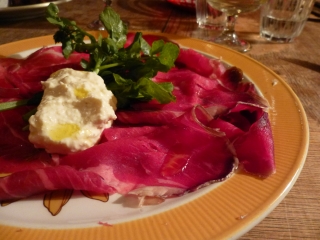 A while ago, before the days of this blog, we took a weekend break to dine at Le Manoir aux Quat' Saisons. That definitely registers as my favourite lunch ever. We arrived at 12 and wandered out around 6 when they were starting to lay for dinner. Aperitifs on the sunny lawn, a wander around the grounds and kitchen garden to digest, and obviously not forgetting the splendid cuisine that was the main event. Our budget didn't quite stretch to staying at the Manoir so we spent the weekend in Oxford. Which is how I came to discover that Oxford is a bit rubbish for food.
Strange, such a beautiful city, apparently the most expensive place to live in the country outside of London, but unable to offer anywhere worth going back to twice. Other bloggers seem to agree that it's tricky, even today. Maybe it's the unholy combination of students and tourists? Two big populations that are unlikely to inspire much effort from the catering trade.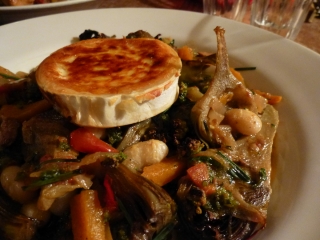 So I'm very glad we happened upon the
Magdalen Arms
when we needed to stop for a bite to eat on our way through last week. It's a big, handsome pub, a short drive (or long walk) from the centre. Inside they've two rooms; the first most definitely a bar with none of the tables laid for dining, though you're welcome to eat in there; the second a dining room, still basic pub furnishings with dark walls and eclectic bric-a-brac to decorate. The noise level on a Thursday evening was loud – even a table of two NEEDED TO SPEAK UP A BIT TO HEAR EACH OTHER.
That said, the food was brilliant. Maureen's smoked haddock cakes with aioli were full of fresh smokiness and hit the right balance of fish and potato. Thick, creamy, tasty aioli – I accidentally had to finish it off with the bread. My thinly sliced Dexter beef was just as grin-inducing as it looks in the photo, good horseradish cream too.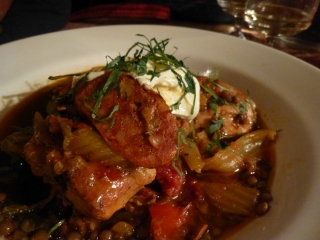 My main of artichokes a la Grecque was an outstanding dish for a rainy summer evening. I'd just been talking to a cousin earlier about how hard it is to find good vegetarian food in vegetarian restaurants, and here was an epic feast that no meat-eater could find wanting for flavour. The artichokes had been cooked with beans, carrots, olives and a few other worthy greens, along with buckets of rosemary and parsley. The whole dish has a warm lemony-olivey depth that was both fresh and hearty at the same time. Good trick. The grilled chevre slice topped it off beautifully.
Maureen's Italian rabbit almost knocked it into touch. The gravy was a stunner, deep but with a really vibrant paprika hum. The rabbit was gently meaty and moist, which is all it needed to be in that gravy, along with soft braised fennel and a touch of the same aioli for a bit of garlicky creaminess.
This was a pit-stop supper, so we didn't have room or time for puddings. Based on the first two courses, I can guess how good they'd be. Around £7 for starters, £14 for mains, this is great gastropub cooking at just the right prices. The atmosphere is buzzy/noisy (delete as you prefer) and unless someone wants to recommend an alternative, this is where I'll be eating whenever I happen to be in Oxford and needing a meal.