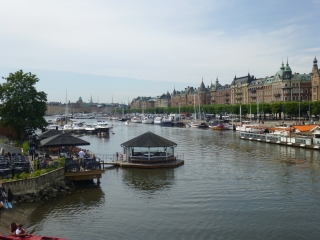 BLOT: foodie, don't go.
This needs two explanations. Firstly, "BLOT" for those not indoctrinated in business jargon means "Bottom Line On Top". In other words, I'm putting the conclusion of this post at the very top so that if you have no time to spare you've got the essence in one sentence. Secondly, don't go because all the most interesting restaurants are closed in July.
Okay, so now I've given my conclusion twice. If you're still reading then you probably are thinking about a trip to Stockholm in the summer. And it's certainly a beautiful city, very worth a visit, and July has the great advantage of warm (boiling!) weather and long (loooong!) days. But the Swedes like to go to the countryside for their summer holidays and the really interesting restaurants know full well that most of the tourists who are thick in Stockholm in the summer are more interested in an "authentic moose steak" at a cheesy beerhall within spitting distance of their city centre hotel than in real gastronomy. So they all close up and go on holiday too.
No, really, pretty much all of them.
Actually, scratch the "pretty much". All of them.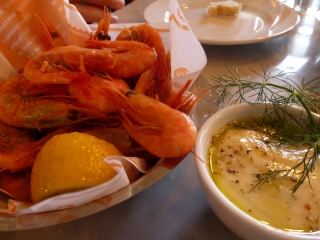 A couple of places are kind enough to leave open the lower bracket gastropub version of their restaurant, and we chose to eat at
Svinet
– a summer pig barbecue put on by the owners of Djuret and Pubologi (both closed). Yeah, in case you're wondering, we chose and booked the flight and hotel before we started seriously deciding which restaurants to book. Honestly, what kind of idiot books his flight before he's secured his restaurant reservations? : )
Svinet takes place in the courtyard of the Victory hotel, and it's a buzzing cocktail bar along with a Spanish themed menu of gazpacho (goooooood gazpacho, awesome dusty burnt flour bread) followed by a platter of flame-smacked pig. I could take issue with the "whole pig" claim here, because ribs and neck and loin is hardly the whole pig. But I certainly couldn't take issue with the pig. Absolutely blinding ribs, juicy and flavour-packed spicy neck, great. And whoever came up with anchovy mayonnaise as an accompaniment is a rare genius. Enjoyed the heck out of this evening. The cocktails helped. Good creme catalan too.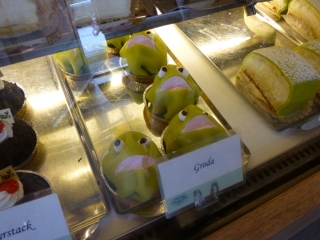 So what else did we eat in Stockholm? Stuff. It felt a bit like picking random cafes and small restaurants in London; likely to be half-decent these days, but nothing to write home about. Nice smoked prawns and aoili at the
Urban Deli
in Sodermalm. Cheap and cheerful tapas at
Mamas & Tapas
in Kunsholmen. Hm. Actually, if there's a theme to dining out in Stockholm it's this: mayonnaise. On reflection we didn't actually have a meal without some.
But yeah. Loved our weekend break in Stockholm, just not especially for the food. Except for Svinet. If you're into food, don't go to Stockholm in July. That's my final word.