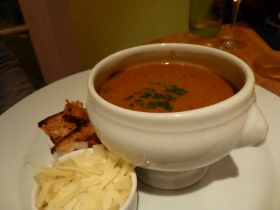 Dear front of house. When a diner asks you for a recommendation, maybe between two or three dishes, they aren't
really
asking you to name the best dish on the menu. They're just undecided, they just want you to help them make their mind up. Batting the question back at them with a headmistress-y "I can't recommend for you, they're all good" is just unhelpful and unfriendly.
Okay, while I'm at it. If your fire alarm goes off in the middle of starters, deafening the whole dining room and leaving them wondering if they need to flee the building, when you manage to switch it off after a couple of minutes you might just want to pop 'round the tables and apologise/reassure your guests? It's not like you had more than a half-dozen tables, it wouldn't have taken a minute.
Well, and just on the subject of unfriendly. Yes, yes, your menu says that coffee comes with petit fours. But when three people out of a table of four order coffees it does look just a teensy bit mean when the plate of little delights set in the middle of the table quite pointedly only has three of each and three forks. It's a choccy and a bit of nougat, why not show a little generosity?
Ha. And only a couple of posts ago I was saying that I scarcely ever mention service! Well, if the food at the Old Passage Inn had been magical I perhaps wouldn't have. But it wasn't really memorable enough to make an engaging blog post out of otherwise.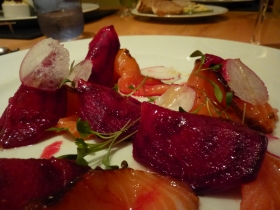 Unlike the Sportsman, the Old Passage Inn makes no pretense of being a pub; it's a dining room, with clumpy chairs and art for sale on the walls. Little ambience, especially when not full. We started with some hot bites; crispy breadcrumbed oysters and smoked haddock croquettes, both pretty good if decidedly unrefined. My starter of treacle cured salmon with pickled beetroot and ginger syrup was okay; I enjoyed the strong treacly cure on the beautiful salmon, the ginger was clever, but the beetroot didn't pair properly with it and there was a creamy element missing. Maureen's fish soup was a super-pungent number, with the French accompaniments of gruyere and saffron mayo.
For mains we had a chunky piece of stone bass, served with wilted gem lettuce, cockles, diced apple and some very tasty little crab arancini. This was a good dish, nice combination of tastes and textures, uncomplicated presentation. Maureen enjoyed it to. My dessert was a slice of creme fraiche tart, a delicate form of creme brulee with a neatly caramelised top and some chewily pleasing bits of candied orange.
With mains at £23 the Old Passage Inn sets out its stall as a classic old seafood restaurant, but I've had comparable fish dishes for £16 at various good pubs. The various service glitches may have coloured my view, but I honestly don't think the cooking at the Old Passage Inn stands up at all in quality to a similarly priced fish restaurant like The Sportsman. Despite being relatively close to Cheltenham, I've no plans to return.