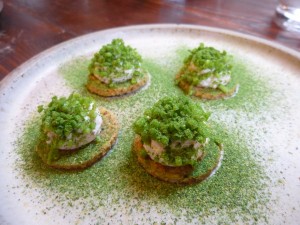 Restaurants are clearly getting sneaky. Our waiter approached us after starters were cleared to ask "so which one of you is Salty Plums?" Given that I'd booked using my proper name and email address, and neither my Twitter account or this blog give away my email address… I'm a little curious how they found out! Heck, Maureen flat out asked him "how did you find that out?" and he stroked his fine Shoreditch beard in a sinister manner and said "we have our ways…"
Anyway, we didn't get any freebies or special dishes, so my bloggish impartiality is preserved! Of course, they would surely have also checked out how much traffic this blog gets and decided I wasn't worth an extra petit four. ; )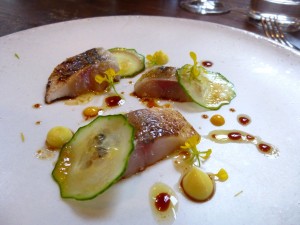 The Clove Club began as a supper club and then moved to this grown-up venue in old Shoreditch Town Hall a couple of years ago. The high ceiling'd room and potted palms give the place a grand air, but the furniture is plain ol' wooden tables and chairs and the open kitchen has a simple and honest appeal. So it's all relaxed and the focus is on the eating. The staff are friendly and knowledgeable too.
Our lunch menu began with a trio of bites; a lovely dollop of smoked cod roe on an oatcake with snips of coriander stem and genmatcha powder, a nugget of buttermilk fried chicken, a tiny tartlet of cheese mousse and pickled beetroot. All yums. Our starter was a splendid mackerel sashimi with scorched skin, simply served with mustard mayo and cucumber. This was as good a piece of sashimi as we had through two weeks in Japan, with jewel-like plating.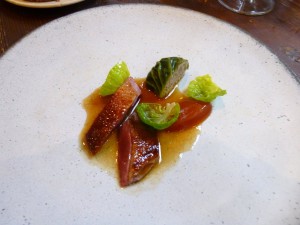 Next was my favourite flavour of the day; a cup of chestnut and oyster soup, with some little wibbles of seaweed hidden in there to add more ozone-y flavours to the sweet nuttiness. This was lovely and unordinary.
Our fish was delish, roasted in spiced butter with a piece of seared cauliflower and a kaffir lime foam. Kaffir lime is one of the few flavours that seems to make a foam worthwhile. And I'm going to confess that I didn't pay enough attention to the menu – the fish was beautifully cooked, but whether it was a piece of mullet or bream or pollock I can't recall!
Main was duck, sprout tops and quince puree. Honestly the smallest main course I've ever been offered, even counting some ten course tasting menus. You can see the photo for yourself. I'm not going to grouse because it was basically 100% gorgeous and I did leave the restaurant later feeling contentedly full, but none of the courses are huge so if you are a "big eater" then just note that you might walk out of The Clove Club craving a burger. Enough. This was a beautiful piece of duck that had picked up all kinds of notes (coffee?) from their baking it in a flavoured meringue. The quince puree was bang-on (and I'm fussy about quince).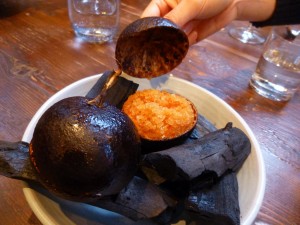 Oh! Actually, favourite flavour of the day was the burned clementine puree, with a buttermilk cream and marmalade-y bitter granita; served in the jet black shell of the clementine it was burned in. The bitter toffee notes imparted to the fruit and the bright, clean cream was just a perfect mouthful of Christmas. I enjoyed the main dessert too; brown bread ice cream with sweet rye crackers and a sticky malt sauce. The clementine was memorable though.
So, basically loved lunch at The Clove Club. The sommelier was helpful and found us some very good bottles from the reasonable end of what looked like a very interesting list. This Christmas-y lunch was £65 each before drinks, and I would go again in a heartbeat.