Cheltenham has been pretty resilient to hipsterisation (that is a word) as far as I can tell, but all that has changed and we now have a hipster epicenter: Cambray Place. Here you can find the Wild Beer Company, where they make all kinds of odd brews out of bay leaves and forest mulch (very GOOD brews, I should add!), and here you can also find The Ox, a steakhouse where the decor is bohemian but where all the staff wear lumberjack shirts.
The dining room of the Ox exists in perpetual twilight, down in the basement of a fine Georgian building in one of Cheltenham's quieter central streets. It's a lovely twilight, though, with a random assortment of found furnishings making the decor eye-catching and very suitable for a Regency town revamped. The chairs could do with better padding in their leather upholstery. Hey, I notice this kind of thing.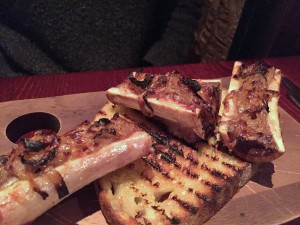 We kicked off with starters – billed as small plates, so you can build a meal out of them if'n you like. My absolute fave were skewers of duck hearts and devils-on-horseback (that's a prune wrapped in bacon, if'n you didn't know). Grilled duck (or chicken) hearts are just about the tastiest food known to man, so that was easy. The prunes were sturdy specimens and their deep earthy molasses tang went beautifully with the bacon and the little blob of tart apple sauce served on the side. Maureen's starter was marrow on toast, a generous portion, and they'd made the genius move of adding some fried – slightly burnt – onions to the marrow. This was great stuff.
The Ox is a steak restaurant, and so I ordered a steak. A piece of rump, and it was beautifully and carefully cooked to rare perfection. The meat itself was good, just not super-duper-good (to be fair, the rump was their bargain offering in the steak department). Perfect bearnaise sauce with it, and some pretty good chips too. Maureen's burger was a jolly good patty, cooked very medium but still moist, in a brioche bun. This was all very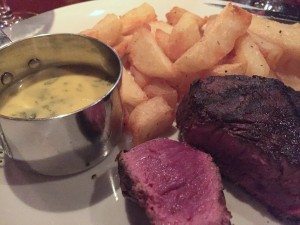 fine fayre, I'm just struggling a bit with specifics. Frankly, I'm not enough of a steak/burger fanatic to review them to any more detail than: amazing/good/meh/horrid. This was all squarely filed under "good".
Pud. Chocolate delice, poached pear – very good, slippery/sticky chocolate. Sticky ginger pudding with banana ice cream – very moist, sauce glossy not too sickly, banana ice cream (as observed previously) the perfect accompaniment to sticky puddings of all kinds. Yeah, nice.
I'd go to the Ox fairly regularly, I reckon. We had some decent glasses of wine and a particularly spiffy dessert cocktail. At just under £30 for three courses without drinks, it's probably at the top of what ought to be charged for this kind of menu – and obviously the better steaks are substantially more. Good addition to the Cheltenham dining scene. Yup.