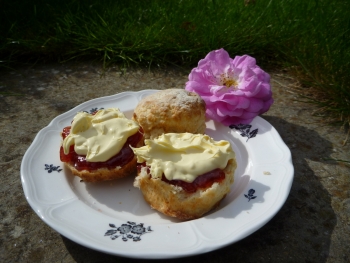 Or as we like to call it, The Cream Tea. It's been one of my favourite things about any day out ever since I was knee-high to a garden gnome. We were on holiday in Cornwall and took a boat trip up the Fal estuary which stopped at a place called
Smugglers Cottage
for the ubiquitous cream tea. I've no idea now whether it was actually a good one, but it started a life-long affair.
Enough with the frivolity. This is a serious matter. There are an awful lot of crap cream teas out there, and I vaguely imagine that thousands of foreign tourists return home from a holiday to Britain wondering what all the fuss is about, having had a dry scone with a niggardly portion of jam and vowed never to touch the stuff again.
There are three absolutely key elements to a good cream tea. I 'splain…
The scone must be fresh and ideally warm. Yesterday's scone might be bearable if warmed through first, but the day-before-yesterday's scone is bird food
The jam must be sufficient to put a good dollop on each side of each scone provided
The cream must be sufficient to put a good dollop on each side of each scone, and must not come out of a squirty bottle
The tea must be brewed in a pot
Whenever I stop for a cream tea and get given a measly thimble of jam and a shrew-sized scoop of cream I want to scream. It's jam, not bloody marmite! This is supposed to be a lusciously naughty snack and the crowning glory of a Nice Day Out, you penny-pinching, miserly, old harridan! Instead I feel like Oliver Twist when I have to go up to the counter with my thimble and beg "please Miss, can I have some more?" They don't look horrified though, they just calmly charge 50p for another thimbleful.
Is it so hard to follow three simple rules? Or four. Haha, can't count. That's all you need for a pleasant cream tea experience. Now, for the perfect cream tea you should be making buttermilk scones. And it should definitely be strawberry jam, fiddling around with other flavours is just not necessary. The cream should be clotted cream, of course. But to be honest the world won't end if it is freshly whipped double cream. Your scones can have dried fruit in, I care not. Loose leaf tea is better, but a couple of bags in a pot makes a fine cuppa.
Yesterday I baked scones for the first time ever. I had to think long and hard about this. Will I still think of a cream tea as the perfect end to a Nice Day Out if I can make them myself whenever I want? They are stupidly easy, after all. I think it'll be okay though.
Simple buttermilk scones
225g self-raising flour
50g lightly salted butter
25g golden caster sugar
150ml buttermilk
Pre-heat an oven to 200C. Sieve the flour into a mixing bowl then rub in the butter along with a good pinch of salt. You want a crumbly mixture. Then you can mix in the sugar
Add most of the buttermilk and mix with a palette knife, do it gently as you don't want a tough dough. You're looking for a ball of slightly sticky dough, if it's too dry you can add a drop more buttermilk until it works
Plop the dough out onto a floured work surface and knead just a few times, then pat it gently until it's about 2.5cm thick. No need for a rolling pin, really
Use a 6-7cm round fluted cutter to cut out scones, then gather the bits together and pat out again to cut a couple more scones – you should get about 8 or so
Place on a greased baking sheet, sift some flour over, and bake for 10 minutes or until they're going golden brown and have stopped rising
I don't have to tell you how to spread jam and clotted cream on, right? Study the photo! Oh, and eat them all within 24 hours, they don't keep well even in a sealed container.