The black pepper crab we had in Singapore was hands-down our favourite dinner in an entire year of travel around the world. So perhaps no surprise that when I asked Maureen what she'd like me to cook for a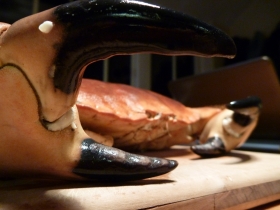 Valentine's supper it was Singapore black pepper crab. I'd do anything for my lady on Valentine's Day! Well, and on any other day of the year of course.
Living in Ludlow, about as far from the sea as you can get in England, sourcing the crab was a bit of a challenge. We do have a great little fishmonger in town, but they're only open Weds-Sat and St Valentine died on Tuesday this year. Fortunately there are a couple of great Cornish fishmongers who will mail order a crab to your door.
Of course, to be properly authentic it would have to be a live crab, which I would then kill and deep fry on the night. However, in the first place I'm likely to burn the house down trying to deep fry anything quite that huge, and in the second place I just knew that if a live crab arrived in the house it would end up with us naming it and then it'd be impossible to dispatch. We'd end up filling the bath with salt water and keeping it as a pet. We would, trust me. So I went with a cooked crab, and the result was virtually identical to our Singapore feast. The crab was just huge. Huge. Major kudos to Wing of St Mawes in Cornwall for supplying such a delicious monster.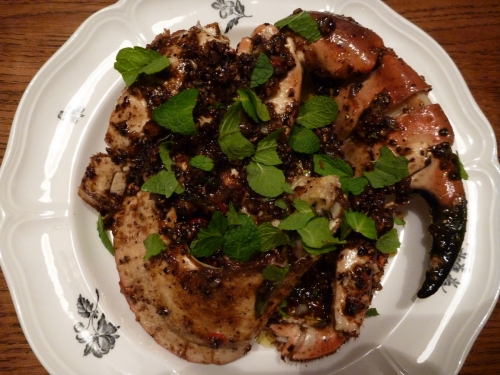 Wow. This was wickedly good eats, complete with filthy fingers and stuff all over the table. It's not for the faint-hearted, there's a bucketload of spice in here and yet somehow the crab is still awesome.
For the record, I accompanied it with a bowl of Som Tam, the ubiquitous spicy Thai salad made with green papaya. And let me tell you, green papaya is even harder to source than fresh crab – as a fellow blogger discovered. This is especially true in Ludlow. A search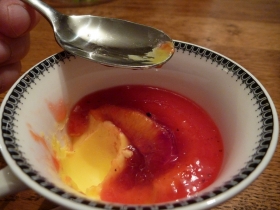 on yell.com for the nearest oriental grocer suggested either Birmingham or Bristol. Useful. Eventually ordered it online. Expensive.
Pudding was a simple and rich pannacotta, but to try and keep a theme I flavoured it with two pinches of saffron instead of vanilla, and then added a blood orange coulis on top. Visually the bright yellow cream and the scarlet coulis looked stunning, but I'm not happy enough with the combination to offer it as a recipe; I think saffron needs a different kind of accompaniment in the pannacotta situation.
Singapore black pepper crab (serves 2)
1 big cooked crab (1kg+)
2-3 tbsp butter
2 shallots, finely chopped
5 cloves garlic, finely chopped
1 inch piece ginger, finely chopped
2 tbsp black peppercorns, coarse ground
5 birds-eye Thai chillies
1 tbsp dark soy sauce
2 tbsp oyster sauce
1 tbsp palm sugar
Mint leaves
Dry fry the black pepper until its fragrance fills the kitchen, then set to one side
Attack the crab! Take the legs and claws off, crack them so the sauce can get in. Chop the main shell in half, then take out the dead man's fingers. Set aside all your bits of crab.
Heat your biggest pan, get the butter in and melt it until sizzling
Add the garlic, shallot and ginger, then stir-fry these at a moderate heat for a few minutes until fragrant.
Now add the black pepper, chillies, soy sauce, oyster sauce and palm sugar. Cook for a couple of minutes
Add the crab to the pan and move it around, coating with sauce. Keep it going for a few minutes, until the crab is heated through and well coated.
Serve with mint leaves scattered over. That's it! Eating it is much harder than cooking it…
Personally, I can't wait to make this all over again!