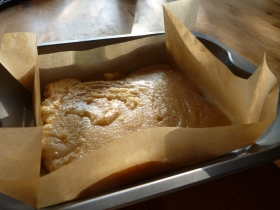 I am always most delighted by a restaurant that breaks new ground, taking food in a direction I have never encountered before. That's probably because I have a well developed sense of adventure, and whereas an element of natural timidity steps in to prevent me going skydiving over the Sahara, when it comes to stuffing things in my mouth I find I'm much more courageous.
So I will always remember my first visit to The Fat Duck and the sensation of "bacon and egg ice cream". Way back then chefs just didn't put savoury flavours in desserts, especially not such an expressively wrong conjunction as putting part of a Full English breakfast into ice cream. Of course "way back then" is only six or seven years ago, and yet in such a short time that level of innovation has become a staple of mainstream TV shows like Great British Menu and a common element in the menu of any restaurant aspiring to be cutting edge.
I'm not averse to sampling something truly original which is "interesting" rather than actually delicious, and some of these modern juxtapositions certainly tend towards the "interesting". The brilliance of that bacon and egg ice cream was that it actually tasted delicious in its own right, rather than merely surprisingly-good-considering. I suspect this had as much to do with the magic touch of bacon as the magic touch of Heston. You could stick two rashers of good quality smoked streaky bacon into an old boot and it would taste good.
So when we were given smoked bone marrow fudge as a petit four at Noma recently, the first thought to pop into my head was "I want more! Why don't they sell boxes of this stuff?!?". My second thought was "sod 'em, I'll make my own then" and hot on its heels my third thought: "I'm not mucking about with bone marrow – let's use bacon fat!"
And thus was born Smoked Bacon Fudge. Which I can't find any other recipes for on the internet, so maybe I've created something new? Because clearly if it isn't on the internet then it doesn't exist. Well, it does now. And it tastes of both fudge and smoky bacon, which is all you need to know.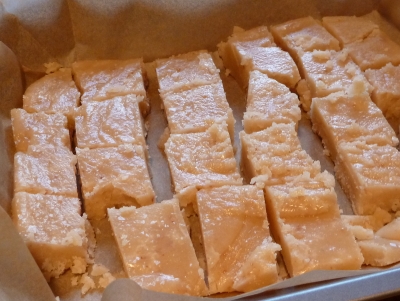 Smoked Bacon Fudge
100g smoked bacon fat
350g caster sugar
300ml full-fat milk
1 tsp vanilla essence
Put the fat, sugar and milk in a heavy-based saucepan – keep any little brown burnt bits in the bacon fat, they are tiny flavourbombs
Heat the pan moderately, stirring continuously until the sugar is melted
Now turn the heat up and boil the mixture, stirring continuously. The bacon fat might curdle or clump into lumps, but keep stirring and it'll turn out alright in the end
You need to boil it for about 15-20 minutes, and ideally use a sugar thermometer as you are trying to get the temperature up to 115 degrees C
Turn the heat off, stir in the vanilla essence, then leave to cool for 5 minutes
Stir vigorously with a wooden spoon until it seems less glossy, then pour into a small square cake tin (or like me, make a square by folding greaseproof paper and put in a bigger cake tin
Sprinkle a few sea salt crystals over it if you like a salty tang, but otherwise just leave it to cool at room temperature until you can bear it no longer, then cut into squares and try a piece
Smile when you taste the sweet bacon-y goodness