On a wet, chilly and rainy Monday morning we found ourselves in a car park in Bath sitting in our steamy vehicle. Our challenge? To return home to Ludlow while taking in a good lunch en route, so I'd have somewhere new to review.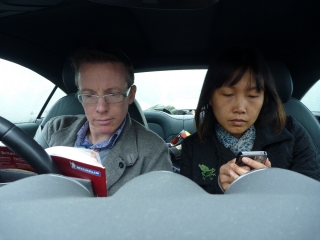 And so began a trawl through the Harden's and Michelin guides – permanent in-car companions for us – for a place to eat between Bath and Ludlow on a Monday lunchtime. The various possible routes take in parts of Gloucestershire, Herefordshire and Worcestershire and could include the towns and cities of Gloucester, Cheltenham, Worcester and Hereford.
We actually found a bunch of options with Michelin stars or Bib Gourmands, although not wanting to get too refined on such a random whim we eliminated the two-star Champignon Sauvage in Cheltenham. But there was The Butcher's Arms at Woolhope, and less than ten miles away but in a different county The Butcher's Arms at Eldersfield, both lauded by Michelin. The other feature they share is both being closed on Monday. The Gumstool Inn is liked by Harden's and by Michelin, but not by us. We've been once before and were simply very underwhelmed by pub food scarcely more interesting or delectable than what the better pub chains can muster. Owen's in Tewkesbury is another Bib Gourmand… and also not open Mondays.
Harden's showed itself to still be a mainly London restaurant guide – only 8 listings for the whole of Herefordshire, 13 for all of Worcestershire. I could probably reel off more good places to eat in those counties without breaking sweat. Just not on our route home.
However, Harden's could offer more choice in Gloucestershire. Lumiere in Cheltenham sounds superb… but isn't open on Monday. We've wanted to try 5 North Street in Winchcombe for a long time, and now seemed the perfect opportunity as it would only be a small detour. Except, of course, that it isn't open on Monday. Wild Garlic in Nailsworth is another spot I've wanted to try and we'd be driving right past. Hmm. Unsurprisingly, not open on Monday. Casting further off our route, I'd never heard of the Old Passage Inn on the banks of the Severn but it sounded well worth a try. Just not on Monday.
In fact, we were thwarted at every turn by the Curse of Closed Monday. I guess Bob Geldof really was tapping into a universal truth when he complained "I don't like Mondays" as decent restaurants outside the capital have obviously all decided that no-one wants to bother themselves with a pleasant lunch on the first day of the working week. Of course with the need to offer Sunday lunch it's only reasonable that they take another day off. It was a trifle hard to look at it reasonably at the time.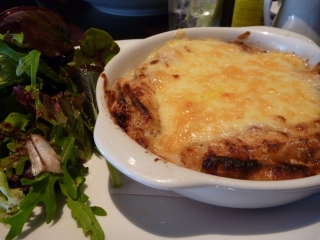 Eventually we decided that rather than spend any more time sitting in a car park running down our mobile phones with fruitless research, we might as well pick Cheltenham as a fairly large well-to-do town en route and find a nice spot for lunch once we got there. Yes, you know it. We found ourselves driving fruitlessly around an unfamiliar town centre peering through the rainy windscreen at crap looking cafes and chain restaurants.
Starving hungry and disgruntled, we settled on a place called Moran's Eating House just out of the centre. Och, it wasn't bad at all. The food was fresh and decent enough, the service friendly. I had a quirky "chicken, pancetta and broad bean pancake with cheese sauce" which turned out to be kinda like canelloni drowned in enough cheese to keep a pizza restaurant going for a week and certainly enough to make any other flavours entirely irrelevant. Maureen had a jolly good smoked haddock and cod fishcake with pea risotto, pepped up with the rather odd addition of balsamic vinegar. Y'know, bizarrely, balsamic and smoked fish actually sorta works.
So, what lessons do we draw from this debacle? Lesson 1: it is not sensible to expect a good lunch on Monday outside of London unless you already know somewhere kind enough to be open all week. Lesson 2: it is silly to arrive in a strange town and hope to find good eats by driving aimlessly around on a rainy day. Lesson 3: try balsamic vinegar on your kippers.