Birmingham is not an easy city to love. The city centre is a soulless jumble of high-end and low-end brand outlets, eatery chains and cheap baguette shops. As though someone has put the word out that folks in Birmingham are fearful of accidentally buying anything independent or original, and everyone has believed them. If there's such a thing as "second city syndrome" then Birmingham has it, because I'd much rather find myself wandering around Bristol, Bath, Manchester, Portsmouth or York than around Birmingham*.
The odd highlights gleam all the more for it. There's a spiffy coffee shop, the York Bakery Cafe, and just around the corner the Urban Coffee Co. And on the way into the Jewellery Quarter, an uninspiring district stuffed with hundreds of shops selling bling that would make H Samuel feel rather avant garde, there is Lasan.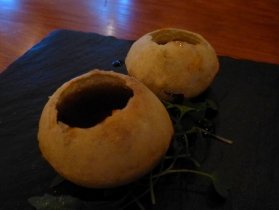 It's a calming modern space tucked incongruously away in a bland building down a little side-street, but well worth the finding. This is Indian food served up with thought and originality.
First up we got an amuse of crispy little puri shells filled with a tamarind broth. Awesome bites. Actually, if you have never had panipuri then you should grab the first chance to try them, anywhere you can. The fact that these crisp cups of deliciousness are so hard to find is testament to the stupid artificially restricted menu that most UK Indian restaurants still cleave to. Not so Lasan.
For starters proper we shared a plate of vegetarian starters: crisp pakoras, vividly tasty spinach tikki, cubes of marinated paneer, etc. These were all good, and brightly spiced, though probably not the most refined of the appetisers on offer.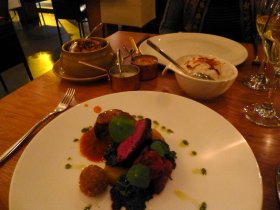 Our main courses were a big improvement. I went for the signature Elaichi beef. This was seriously sourced meat; meltingly braised blade, lean yet full-flavoured sirloin, then a bone marrow pakora and some tandoori sweetbreads. The former was a deep-fried snot, the latter were a fantastic way to treat sweetbreads. Best of all was the deep, rich, warmingly spiced cardamom gravy.
Maureen's dish was a goat biryani, served with daal and raita. This was my favourite ever biryani, lightly buttery rice and goaty pieces of tender goat meat. Needed the raita to provide some moisture, but almost certainly a main I'll order myself next time.
Pud was a lemon and cardamom posset, notable only for not having enough cardamom scent for my taste. We enjoyed a couple of excellent glasses of wine, unexpectedly good in fact. You'll be paying around £35 for three courses here without drinks, and although not my favourite ever Indian meal, I think they can probably get away with that for being head-and-shoulders the most forward looking Indian restaurant in Birmingham.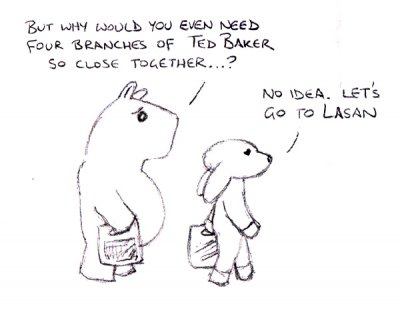 * – so if you know of a brilliant little neighbourhood full of cool independent shops, like Manchester's Northern Quarter or Brighton's North Laine, please leave me a comment! I'd love to love Birmingham, I work there after all. : )