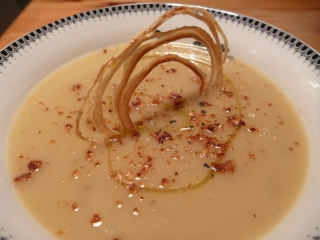 Prepare the croutons! Dig out the gas masks! Roast the hazelnuts! For it is Jerusalem Artichoke season once more, and the knobbly little uglies are back in my local greengrocer. All hail the mighty Jerusalem Artichoke!
What do you mean, you don't know what I'm talking about? Next time you're in a greengrocer, or maybe a larger supermarket, look for a box of knobbly little thingamies with maybe a few hairy roots left on them. No, leave that big thingamy along, that's a celeriac. I'm talking smaller, the size of a small potato. They might be brownish or purplish, and might well be dirty. Now buy some. And hopefully you've just bought some Jerusalem Artichokes instead of iris rhizomes.
What you can do with your purchase is cook up the most amazingly earthy, smoky, autumnal soup that you could imagine. There is no flavour quite like these fellas, although truffles and beetroot exist in the same sort of head-space. They're like… well, imagine walking along a canalside on a foggy day in late autumn, kicking up piles of spotty red and gold maple leaves, while somewhere nearby an old duffer has a bonfire going in his allotment. That's what Jerusalem Artichokes taste like.
I was so delighted when I first found them a few years back. Now I look forward to this time every year. And lo the bells shall ring with the cheerful flatulence of Jerusalem Artichoke season!
Er… yes. Maureen seems immune, but most of us mere mortals will discover a jolly buoyant sensation a few hours after a dish of these odd roots. Just so you know. Hope I haven't put you off.
Jerusalem artichoke soup
5-6 Jerusalem artichokes
2 cloves garlic, roughly chopped
1 medium onion, chopped
1 stick celery, chopped
1 bay leaf
1 pint chicken or vegetable stock
butter
salt and pepper
Makes two big bowls, or four starters
Peel your artichokes. This can be a fun game in itself if you have the really knobbly ones! Roughly chop them
Sauté the onion and celery in butter for a few minutes, then add the artichokes and garlic and sauté for a few minutes more
Pour in the stock, add the bay leaf, season with salt and pepper, and leave to simmer covered for 30 minutes or until the artichokes totally fall apart when you prod them
Blend it smooth, you're done!
Well, okay, you can also add a dollop of cream or crème fraiche at the blending stage to make it creamier, and when you serve it you can drizzle some good olive oil on, or even better some truffle oil. I also like to add chopped-up roasted hazelnuts. This time I also added a cooked beetroot with the stock, and that worked really well. Oh, and for decoration there's also the funky thing you can do with dried apple slices! What you do is peel an apple then cut really thin slices using a mandolin or a big knife, then pop them on greaseproof paper in the oven at about 70C so they just dry out over an hour or two, and you end up with crispy little apple rings that are very nice perched on the edge of the bowl like lemon slices on a cocktail. And this time I tried the same with super-thin slices of onion, which also worked. Er… is this still a bulletpoint?