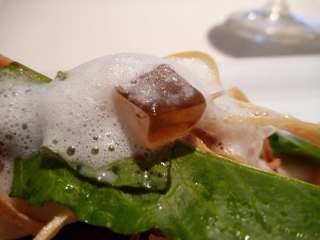 They were very nice at
The Crown
when we showed up for lunch unannounced, in my case in muddy jeans, a T-shirt and walking shoes. I might not have blamed the maitre d' for taking a long look at me and then deciding that they were fully booked. It's possible that my jacket redeemed me, or simply that the terribly harsh life in an isolated, wet and mossy valley on the Welsh borders tends to breed hospitality.
The Wye valley is seriously beautiful. If you've never been, go.
The Crown was clearly once a pub, but inside they haven't taken the "posh pub does food" route, they've transformed it entirely into a soothing dining room of warm whites with a comfy lounge on the side. Oddly the door in from the car park still looks like it belongs to a boozer; just a minor touch that could be neatened up.
The two of us chose a la carte, which effectively gave us the 6-course tasting menu as the dishes were all on the a la carte and we dipped our forks freely across the table. Very freely, because we both had dishes that were attractive to look upon and delicious to eat!
Amuse bouche of butternut squash, ham hock and foraged leaves with truffle foam was good, and I'd love to know how they got that slightly sturdy texture into the squash. Good bread selection. My starter of shredded ox-tail in open lasagne with Madeira was cosy. Like me, you probably read that and expect a rich Madeira gravy over the ox-tail, but no! There were instead beautiful little cubes of Madeira jelly, and the flavour was startlingly clear and zippy. Yum. Maureen's starter of smoked haddock brandade, pig's head and sweetcorn was an even better dish, very fitting to the blustery autumn afternoon outside with the last of the leaves coming off the trees. Both dishes were prettily plated and nicely balanced.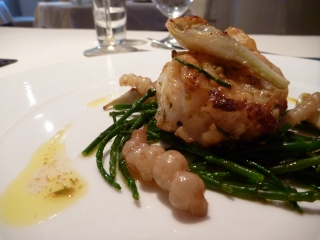 For my main I had a chewily good piece of monkfish on samphire with pieces of artichoke and a tangy aubergine puree. The novelty item for me were the Japanese artichokes, which look like fat grubs and were scrunchy (presumably blanched only) and had a mildly Jerusalem-artichoky taste. Otherwise, a pleasantly austere fish dish. Maureen riffed again on the theme of autumn with some good pink duck breast served with a bacon and lentil gravy and some deeply flavourful butternut squash. Nothing innovative, but the flavours melded together into a warm glow, like a good bonfire night.
Desserts were pretty decent. Maureen's white chocolate and tonka souffle had a good flavour, though the crème anglaise added to finish it didn't really do much. My date and fig pudding was neatly served in an individual Le Creuset, and was delicious with the dark caramel sauce, although the pudding was actually rather dry on its own. Good enough, but not epic.
For £30 this was a seriously good value 3 course lunch, and this is all technically great cooking with neat presentation and splendidly seasonal flavours, albeit with only a modicum of innovation. If you ever find yourself in this neck of the woods, I wouldn't hesitate to suggest a meal out at The Crown, though it's perhaps not enough of a destination to take a six hour round-trip from London for on its own. Ah… but I did say you ought to visit the Wye valley anyway…