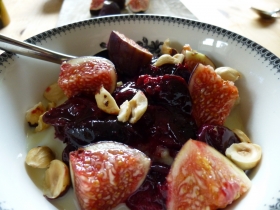 I've got a real lust for damsons at the moment, can't get enough of them. I wish I could forage them easily, but wandering around Shropshire it seems as though every last damson tree is pretty much in someone's garden and of course they pick the ripe ones for themselves. I would too! If you know (and love) damsons already then you'll understand. If you haven't paid much attention to them, I'll try and explain. They're like tiny plums, and tried raw they are indescribably tart and unloving. Damsons come to life when cooked, having a bold and unique flavour that is herbal, hedgerow and fruity all rolled together. I can't think of any fruit I like better stewed.
But as usual I also can't help fiddling. You'll know of cardamoms, but may not have encountered black cardamoms. They are like the evil twin of the familiar green cardamom, giving a very dark and smoky version of the exotic cardamom flavour. So I like to squash a couple of black cardamom pods and add them to my damsoms, with half a stick of cinnamon and perhaps a couple of star anise before simmering them with a splash of madeira and a couple of big dessert spoonfuls of sugar (or honey) for about twenty minutes.
This compote adds immense character to yogurt or porridge for breakfast, or ice cream for pudding. In this case it makes a brilliant combination with soft meringues and some crème fraiche.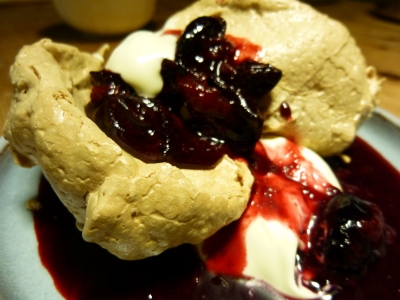 Damsons and soft meringues (serves 4)
Punnet of damsons
4 tbsp madeira
2 tbsp honey
3 black cardamoms
½ stick cinnamon
1 star anise
2 large egg whites
90g caster sugar
4 tbsp crème fraiche
Put the damsons, madeira, honey, cardamoms, cinnamon and star anise in a small pan and bring to a boil, then simmer for 20 minutes or so
Pre-heat the over to 150C and line a baking sheet with greaseproof paper
Whisk the egg whites to stiff peaks in a clean bowl, then whisk in the sugar a dessert spoon at a time. Finally whisk in 1 tbsp of the liquid from the stewed damsons
Scoop dessert spoons of the meringue mix onto the baking sheet. Pop into the oven and immediately turn it down to 140C
Bake for 30 minutes, then turn the oven off and leave the meringues in for at least three hours
Meanwhile get your fingers filthy digging through the damsons to remove all the stones. It's that or just warn your diners to eat carefully and spit 'em all out!
Serve by spooning some damsons into a bowl, then adding a couple of meringues, then more damsons and a spoonful of crème fraiche.
Enjoy!