Here's a question for you. If it's possible to cook fillet of beef by leaving it in a hot water bath at 50C for several hours… would you cook yourself if you stayed in a hot bath for just as long? Scary thought.
That's sous-vide, by the way, for anyone who hasn't come across it. Your meat is vacuum-sealed in a special plastic bag by a special little machine and popped in a special hot water bath that can keep the water at a precise temperature for several hours, or even a couple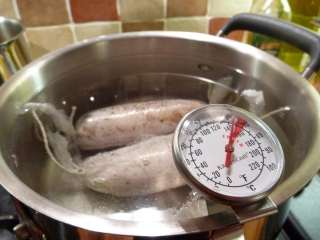 of days for some meats. Meat tender, flavour locked-in, still pink but safely cooked, it just remains to pan-fry for a minute each side to give it some attractive colour.
I don't have any of this special equipment, but surely a big saucepan, a milk thermometer and some clingfilm would do the trick? How very Blue Peter.
I settled on pork tenderloin and got a couple of nice steaks from the butcher. The water bath was actually the easy bit. After getting my biggest saucepan up to 62C I just put it on the tiniest hob on its lowest setting and – give or take the odd tweak – it stayed pretty much steady for the 1½ hours needed. For the vacuum I used plenty of clingfilm and tried to wrap the steaks very snuggly, then tied off the ends with string. It looked pretty good to me, but there were a couple of air bubbles which resulted in slightly uneven cooking as the water isn't transmitting heat properly at those points. Worse, it also turned out that water got in during the cooking process. So: my pork was properly cooked, still very moist, quite flavourful, but not pink and firmer than I had wanted due to the bit of poaching that took place.
The rest of the dish worked a treat, so feel free to enjoy the recipe but either (a) cook your pork the old-fashioned way, in a pan for five minutes each side; (b) invest in proper sous-vide equipment; (c) perfect the clingfilm Heath-Robinson technique and tell me how you managed it!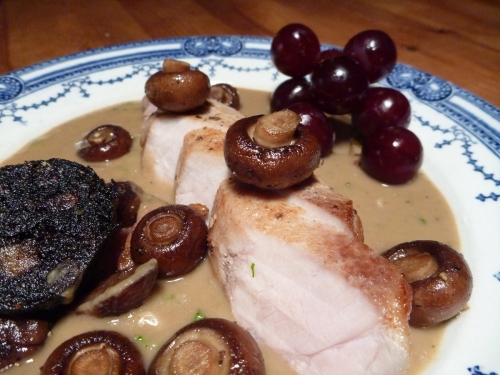 Pork tenderloin with chestnut sauce (sauce is enough for 4)
2 pork tenderloin steaks
2 rashers smoked streaky bacon
For the sauce:
1 stick celery
2 shallots
1 clove garlic
200g cooked+skinned chestnuts
1 tsp fresh thyme
50ml Madeira
400ml vegetable stock
2 tbsp cream
2 tsp truffle oil
Slow-fry the bacon until it is cooked crispy, then reserve the bacon fat and let it cool
Season your steaks, put them on your clingfilm (in your sous-vide bag), pour the bacon fat on, wrap them insanely tightly (use the vacuum machine to seal the bag) and pop them in the saucepan (water bath) at 62C for an hour. Or pan-fry the steaks in the bacon fat after making the sauce!
Chop the shallots, celery and garlic then fry them softly in a good knob of butter until golden
Reserving 6 chestnuts, chop the rest and add them to the pan along with the thyme. Turn up the heat, then pour in the Madeira and let it bubble and reduce until just a sticky coating on the veg
Pour in the stock, then simmer it for 25 minutes. You could use ham stock, or perhaps 50/50 with the veg stock
Add the cream, give it another 5 minutes, then add the truffle oil and blend the sauce until smooth. Check seasoning
Halve the reserved chestnuts, chop up the bacon, and fry them together in a little butter for a couple of minutes – they make a nice addition to the pork
I served this with a round of black pudding, some button mushrooms fried in butter and garlic, and a small bunch of red grapes. The whole dish was pleasantly autumnal and yet surprisingly light. No potato, rice or pasta because the chestnuts seemed to give enough starch. However, I think there's any number of other vegetables that would go well here: pan-fried celeriac cubes, parsnip mash, shredded cabbage, braised celery…
Enjoy!