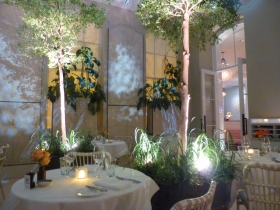 We never tried Skye Gyngell's beloved lunch spot at Petersham Nurseries, despite living in Richmond for three years. I could never make the dishes as written on the menu match up to the prices next to them and had the distinct impression that this was more a place to be seen to be seen, a bastion of the ladies-who-lunch. Certainly Petersham Nurseries was, and is, probably the most artistically old-fashioned nursery in the country, a delight to browse around. Anyway, roll forward a few years and we're trying her first new permanent dining room; Spring, at Somerset House.
The room we get is suitably lovely and woodsy, like a winter forest. The staff float around in outrageously whimsical Hampstead Heath hippy outfits, but for all that the service is perfectly pleasant. The menu matches the outfits: my chosen starter is "goat curds, puntarelle and spinach" and you can have a side dish of "slow-cooked chard and lentils" for £9. Yes, for a side dish. Yes, chard and lentils. Yes, I guess this is the middle of London… but still!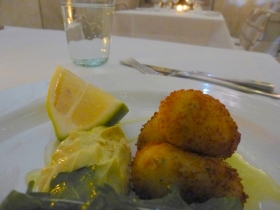 So, my starter is lovely and pleasant. Puntarelle is a kind of chicory. Maureen's salt cod croquette is scrumptiously salty with earthy roast garlic in the aioli, but it
is
just a couple of nice croquettes. For £12.50. My main of slow-cooked paprika lamb with chickpeas is gorgeous, a heart-winning dish which would make anyone smile. Maureen's squab with girolles is even better, a delicious and meltingly livery pigeon, beautifully cooked indeed. I finish cleanly, on meringue with a smart clementine sorbet. The pear tart is also good, served with a muscat ice cream (somewhat drowned out by the nice glass of sauternes we enjoy with it – the sommelier is a top chap, by the by).
Spring. The style of food is Italian-influenced gastropub. The execution is basically faultless – that's what you're paying for. You'll pay over £50 for three courses. As our friend Tim says: this would be a great place to take a business lunch when you want to impress. Personally I can't think of any other use for it at that price. I feel so provincial. : )