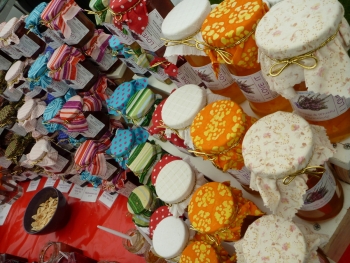 I can't decide how to write about the Ludlow Food Festival. For a start, we've been to it a few times before; the first time was about seven years ago "before it was famous." So of course a whole lot of it is familiar. Festivals are rather like film sequels, it's very rare for your second visit to recreate the magic of your first.
But we're actually living in Ludlow now and it seemed daft not to go when it's only a five minute walk from our front door. No worries about how many beers, wines and ciders to sample! Nor about buying too much stuff; we took a break around lunch to deposit a load back home and have a cuppa. Then we plunged back in to taste and buy some more. It's a hard life.
There certainly were plenty of great producers and makers at the show. Among my favourites were: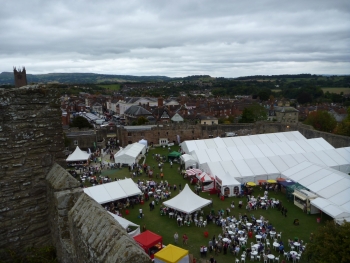 There were lots of others. Without even stopping to watch a cookery demonstration or listen to a talk we took a good six hours to explore the whole show in the baileys of Ludlow Castle. To be honest, I'm not really interested in sitting down to watch a famous chef cook something, certainly not unless I'm going to be eating it afterwards. But if that's your thing then you could fill the day even fuller.
So that was Friday. On Saturday we did some of the Festival trails instead. The sausage trail involves wandering around the town trying a sausage from each of the four local butchers as well as a "guest butcher". My winner was a black pepper Old Spot sausage from Andrew Francis. D W Wall had foolishly gone for brie and cranberry. Brie really has no place in a sausage, even I could have told them that. As though five sausages wasn't enough, when you hand in your completed trail leaflet (so your score can go to deciding a winner) you get a free sausage in a bun of your choice.
The ale trail is even more up my street: fifteen different ales to try, each offered at a different pub around the town. Beer + moderate exercise = win. Also helped digest the sausages. I've found some of my favourite beers at past Ludlow ale trails, such as Hobson's Mild and Twisted Spire. Alas, this year nothing really stood out for excellence, though several were good. Weirdness award goes to "Tonka beer" from the Ludlow Brewery, the tonka berries giving a very pronounced vanilla-y aftertaste to the ale. I'm a snob about putting flavours in beer, but in a moment of enlightened charity I'm going to admit that this worked quite well.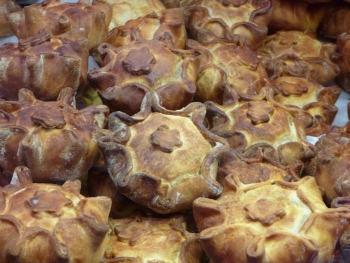 When I started this article I was intending to moan about the crowds in the festival and the rugby scrum you have to push through for a sample nibble of some cheese or relish at a popular stand, and how I wished to visit an unpopular festival for a change so I could have it to myself. But it turns out that this is my most trivial recollection of last weekend and the Ludlow Food Festival remains a jolly good few days of food and booze.
I recommend it to all.
Tips to enjoying the Ludlow Food Festival

Make a long weekend of it and visit the main festival in the castle on Friday – it's less thronged
Also stop in any of the butchers on Friday and buy a sausage trail ticket for Saturday, or you'll be queuing for one on the day
If you want to combine the festival with one of Ludlow's Michelin restaurants, try booking six months in advance. Or more
Oh yeah, and book accommodation very very early too